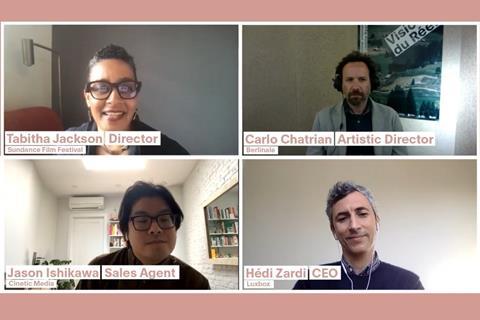 The directors of the Sundance and Berlin film festivals have revealed increased uncertainty over their upcoming events due to the ongoing pandemic.
Speaking on a virtual panel at Swiss documentary festival Visions du Reel (April 15-25), Sundance festival director Tabitha Jackson said there were challenges over both the planning of the January 2022 event and uncertainty over the films that will be ready, following a year of production disruption.
"We're again in the position of needing to plan in the midst of uncertainty and, in a sense, it's more uncertain this time because it probably will be possible to have in-person [events] but the world won't be back to normal," she said. "And work has now been stopped for almost a year so what are we going to see in terms of the films that have been made? It's not going to be easy."
Berlinale artistic director Carlo Chatrian also shared concerns over its upcoming public event in June, following a shift of this year's festival to an online, industry-only edition in March.
"We are still working and hoping to… host screenings in theatres or open-air in Berlin in June," he said. However, Chatrian added a note of caution that "this is still up in the air" as the decision lies with the German federal government and Berlin senate, which funds and supports the festival.
"They don't just give us money because the Berlinale exists and is 'too big to fail'," he stated. "So we're in constant discussion with them."
Reflecting on this year's festival, which was his second as artistic director, Chatrian said the feedback was "overwhelmingly positive" but would not "be "fully satisfied" until the public event has taken place.
This year's edition of Sundance marked Jackson's first as festival director, who was forced to move the festival primarily online due to travel and hygiene restrictions amid the virus crisis. Asked for her verdict on the event, Jackson said: "It can be summed up in one word… Phew! But the work begins for all of us [on the next edition] immediately."
Also on the panel was Hedi Zardi, CEO of Paris-based sales outfit Luxbox, whose slate includes Dénes Nagy's Natural Light, winner of the Silver Bear for best director at this year's Berlinale.
Zardi highlighted how the lack of physical events has impacted business. "We cannot avoid the reality of the deals," he said. "Films have found distributors but the deals are lower. We have to face this reality because arthouse cinema and theatrical distribution will remain a little fragile. I hope distributors will be more confident in future and take higher risks on some productions."
Jason Ishikawa, a senior executive at US talent management and sales firm Cinetic Media, also emphasised the importance of festivals to striking deals. "We want buyers to see [films] with an audience to visualise that component of a release," he said. "That's very hard to replicate in the virtual space. We can point to other things like press, awards, prestige of selection, which are really important for a lot of movies but the audience component to a movie is something that is really critical."
Smaller programme benefits
For festivals, one consequence of moving online has been a smaller programme, something Chatian recognised as a plus.
"We selected 100 titles when we usually have 300, which was a big advantage of the films selected," said the Berlinale artistic director of this year's line-up. "It was good because the press could really focus on these films and sales could really work without this big mass of titles… The biggest outcome for me is that if you have less films, especially in this setting, it's a great advantage. It's more difficult to compose the programme but it's a great advantage."
Luxbox's Zardi agreed and added: "I found people had more focus on films. Cinema needs space and time, and if you have too many new films, you can't allow a film to grow and have its own space."
Cinetic's Ishikawa also observed: "We're seeing a bit of industry fatigue and buyer fatigue. These festivals are shorter for a reason and need a condensed line-up because it's physically impossible to schedule 300 movies in five or six days… A lot of films benefited from a shorter programmer, not having to compete for press against films that already had distribution."
Plans for 2022
Looking ahead, Chatrian said he foresaw a hybrid element being carried over to the 2022 European Film Market and that the Berlinale's financial model would need to be rethought.
"We could only make the 2021 edition because we got super extra support from the government," he said of the festival, which usually sells 300,000 tickets during the event. "We have to rethink the financial model because I have problems seeing, at least for the next year, that we will be able to have 100% capacity in all our theatres."
Sundance's Jackson expressed her hope to be back in Park City next year but acknowledged a similar challenge and said: "We can do a model where it's 100% capacity but also have to do a model where it isn't because that's the state of the world now.
"Putting on an in-person festival, which is what we very much hope to be able to do in whatever way we can, is really expensive and the way we fund that is by selling tickets. So if we sell fewer tickets because the capacity is lower, that's a problem."
Also looking to the future, Zardi added: "My feeling is that I really hope the next Berlinale will be the moment where we will meet all our distributors from around the world.
"We have to rethink our travel strategy and don't all have to attend all the markets… But I would be a little sad to attend a market where I could only meet the Europeans and only zoom with Asian distributors… we have to reconnect and get out of these zoom boxes."