Filmmaking duo the Russo brothers are currently juggling The Avengers with The Avengers Of Mosul.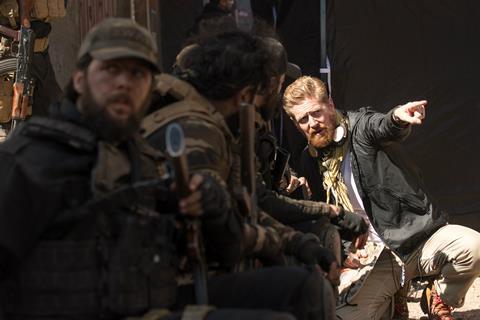 Anthony Russo took a break from editing Avengers: Infinity War - Part 2 to visit the AFM on Saturday [3] and talk up Mosul, the new feature from the brothers' production outfit AGBO.
The film, which Endeavor Content has been introducing to buyers in Santa Monica with a tense, action-packed promo, is a "healthy budget", Arabic-language war movie featuring a local cast.
World War Z screenwriter Matthew Michael Carnahan wrote and directed the film, which shot under the radar in Morocco this year. Based on Luke Mogelson's 'The Avengers Of Mosul' series of articles for The New Yorker, it is the story of an elite police unit made up almost entirely of Mosul natives who fought to liberate Iraq's second largest city from Isis.
The Endeavor Content sales team report that it "has the option" to close deals here during the market, but that there is some buyer caution around the film's Arabic language, which will mean a subtitled release in most major territories. Speaking to Screen, producer Russo said he believes the language factor will make the film stand out. "You've never seen an Arabic story told with this level of scale, in the local language," he claimed. "We're banking on the integrity and uniqueness of the story to break through, to cause people to step past those barriers and experience the movie."
"The thought of doing it in the local language was so appealing because it was such a unique and specific story," Russo added. "Our job throughout the entire process was to do it justice. The language became one of the key ways to do that."
Coming off the back of three epically successful Marvel films – which between them grossed close to $4bn globally – Russo says his company was "in a good place for risk" and that journalist Luke Mogelson's articles struck the pair as an "opportunity to tell a story that wasn't getting told".
Key to the film's prospects will be Middle East markets, Russo believes. "Local markets around the world can be activated if you support them in the right way," he said. "I don't think those markets have ever seen a movie like this: a war film, about them, where they're not the villains, executed at this level."
The producer points to Chinese mega-hit Wolf Warrior 2, which the Russo brothers lent support to, as a comparable title that introduced a new level of high-concept genre filmmaking to a local market and became a box office success.
Mosul shot on location in Morocco, in secrecy for security purposes, and used a largely Iraqi cast. Russo says the team consulted in depth with local partners in the region to make sure the subject matter was handled in a sensitive way.
Anthony Russo and Joe Russo of AGBO are producing with Mike Larocca of AGBO, Jeremy Steckler of Condé Nast Entertainment, and Dawn Ostroff. Executive producers are Todd Makurath, Christopher Markus, and Stephen McFeely of AGBO, Mohamed Al-Daradji from Son of Babylon, Patrick Newall of Anon, and Wang Zhongjun, Wang Zhonglei and Felice Bee.
AGBO now has several projects in production, including New York-set thriller 17 Bridges with Chadwick Boseman and Chris Hemsworth kidnapping thriller Dhaka, which is shooting in India and Thailand. The company is also working on an ambitious, global, large-scale series with Amazon, which the brothers will direct. "It's going to lead us to fresh places creatively as storytellers," said Russo.