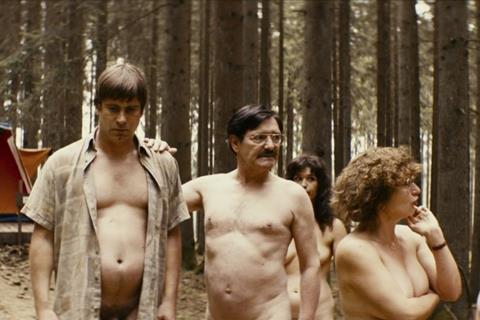 Anti-Worlds, the new UK distribution company launched earlier this year, has taken British rights to Tim Mielants' Patrick, which is on Beta Cinema's AFM slate.
The Belgian tragicomedy had its world premiere in competition at Karlovy Vary International Film Festival, where Mielants, making his feature film debut after a successful TV directing career on shows including Peaky Blinders, was awarded best director.
Kevin Janssens stars in the film as the titular Patrick, a handyman on his father's naturist campsite whose life is thrown off its axis after he loses his favourite hammer. Jemaine Clement, Pierre Bokma and Hannah Hoekstra co-star.
Patrick was produced by Bart Van Langendonck's Savage Film, which was also behind Michael R Roskam's Bullhead and Racer And The Jailbird. The film also won best film and director at Fantastic Fest in Austin and will be released theatrically in the UK in 2020.
Anti-Worlds was founded by producer Andy Starke of Rook Films together with exhibitor Jason Wood of Manchester arthouse venue HOME, publicist Zoe Flower, and Sam Dunn and John Morrissey of Powerhouse Films.
"Patrick is exactly the sort of film Anti-Worlds was born for: funny, provocative and poignant. We are incredibly pleased to be able to bring the film to UK cinemas in 2020," said Starke.
"Anti-Worlds Distribution is a young filmmaker-driven company that believes in the collaborative process and wants to do films that are exciting and outside the ordinary. Patrick is certainly such a film and one that provides for a distinctive cinematic experience, but also one that needs the passion you can feel from Andy and his team," Beta Cinema's Thorsten Ritter commented.