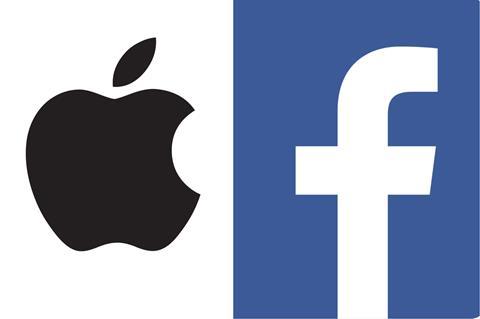 Apple and Facebook are accelerating their long-awaited film and TV content drives in a bid to rival Amazon and Netflix.
To date, Apple's direct incursions into the movie industry (beyond the Apple iTunes platform and working with aggregators) have been to acquire music-themed documentaries for its Apple Music service but Screen has spoken to multiple senior industry executives who have confirmed that the tech giant has also begun bidding on bigger, non-documentary narrative movies.
Cinetic CEO John Sloss, producer of Oscar-winner Boyhood, is among a small coterie of US industry on the independent side of the business currently in negotiation with both Apple and Facebook.
Sloss is in discussion with Apple over their acquisition of a doc-narrative hybrid movie and is also developing a big budget limited series with Facebook, which "if it goes is going to be sensational".
"I think we're only scratching the surface of what they're going to do," Sloss told Screen in an interview scheduled to run in Screen's Toronto dailies.
Prominent European executives Screen has spoken to in recent weeks expect to be in business with the likes of Apple, Facebook and Google in the not too distant future.
"Certainly," said Michael Weber, managing director of German art-house sales outfit The Match Factory, when asked about the likelihood. "I'm quite sure. Our product isn't obvious for them but of course the market is changing."
Apple were unavailable for comment on their movie plans or on yesterday's report in one US trade that the company is interested in acquiring the rights to the James Bond franchise.
What's clear, however, is that the world's most valuable company is starting to make serious moves in the screen sector.
War chest
According to a report in the Wall Street Journal last month, Apple has amassed a $1bn budget to 'procure and produce' content over the next year.
Company executive Jimmy Iovine told Bloomberg News in April that Apple would release as many as 10 original shows by the end of 2017. One of those is reportedly Apple's first foray into scripted TV: Dr. Dre's Vital Signs.
The tech giant currently hosts reality TV style projects Planet Of The Apps and Carpool Karaoke on Apple Music but expectations are that it could ultimately launch an additional TV or movie subscription service.
As part of its content push, the company hired former Sony Pictures Entertainment co-presidents Jamie Erlicht and Zack Van Amburg in June with the duo reporting to Apple services chief Eddie Cue. Recent hire Matt Cherniss heads up development.
A slew of staff additions, including multiple former Sony TV execs, were also announced by Deadline yesterday for its video programming division.
Last week, the Financial Times claimed that Apple is looking at taking office space in California's Culver Studios, where films such as Gone With The Wind and The Matrix have been partly shot.
Meanwhile, Facebook announced earlier this summer that it would be funding a slate of original episodic content – documentary series, reality shows, and scripted programmes – to be hosted on the website's new Watch feature.
The social network, which was also unavailable for comment, has been courting Hollywood for some time with head of market development Matt Jacobsen well known to agencies, studios and high-end indies.
Last month, for the first time, Focus Features aired three major library titles on Facebook Live in what could be a precursor of things to come.
The synergies are obvious. The potential opportunities are myriad.