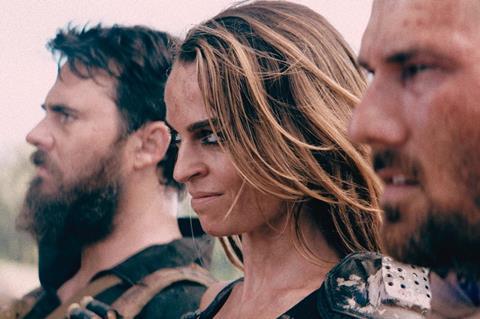 Arclight Films has acquired worldwide sales rights to the completed post-apocalyptic zombie thriller Wyrmwood: Apocalypse from Bronte Picture and Guerilla Films and launches talks today (June 21) at the virtual Cannes market.
Jake Ryan from The Great Gatsby, Luke McKenzie from BBC Films' Perfect Sense, Bianca Bradey from The Osiris Child, and Jay Gallagher from Nekrotronic star in the sequel to 2014 Fantastic Fest selection and 2015 Trieste Science+Fiction Festival award winner Wyrmwood: Road Of The Dead.
The sequel picks up the action in a zombie-infested Australian wasteland where soldier Rhys has dedicated his life to tracking and capturing survivors for the Surgeon General in hope of finding a cure.
When he learns all is not as it seems, he must team up with Maxi, and siblings Brooke and Barry to race against the clock and save the one person who may be the key to ending the apocalypse. McKenzie, Bradey, and Gallagher reprise their roles from the cult hit original.
Joining the cast alongside Ryan are Shantae Barnes-Cowan from Australian series Operation Buffalo, and Tasia Zalar and Nicholas Boshier from US series Mystery Road and Soulmates, respectively.
Kiah Roache-Turner reprised his directing role and co-wrote the screenplay with Tristan Roache-Turner. IFC Films released the original.
Blake Northfield and Tristan Roache-Turner produced Wyrmwood: Apocalypse. Arclight Films chairman Gary Hamilton, Ryan Hamilton, and Michelle Krumm are executive producers alongside Jeff Harrison, Ari Harrison, Clement Dunn, Bryce Menzies, and Tim Nagle.
"Everyone loves a great post-apocalyptic thriller," said Hamilton. "Worldwide distributors at Cannes virtual market will not only be thrilled with the super high quality of production and visual effects but also with the story and the characters. The filmmaking team did an extraordinary job, setting new heights with this sequel to captivate worldwide fans of the first instalment as well as audiences new to the franchise."
Arclight represents Bronte Pictures' competitive swimming drama Streamline starring Jason Isaacs and Levi Miller.