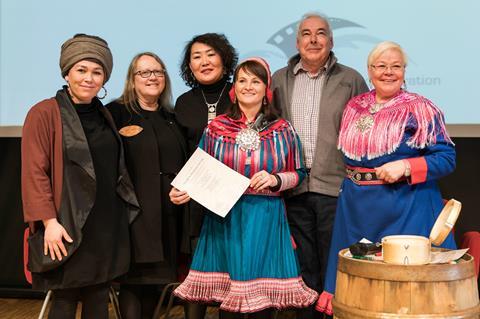 International partners from across the Arctic – in Canada, Greenland, Sapmi (also known as Lapland) and Russia – are joining forces to create the Arctic Indigenous Film Fund, which was officially launched today at the Indigenous Film Conference in Kautokeino, northern Norway.
The fund will support development and production of indigenous film projects in the Arctic, encourage co-productoins and strengthen collaboration between film institutions, companies, producers and universities.
The fund will be established under the International Sami Film Institute in Norway, which is this week hosting its second Indigenous Film Conference. The ISFI was established in 2009 and has been working towards the creation of this cross-border Arctic fund since 2012.
The four other partners in the fund are Canada Media Fund, Greenland Film Makers, Nunavut Film Development Corporation in Canada, and Archy Film Association based in Yakutia, Russia. The ISFI hopes to also add a partner in Alaska later this year.
International Sami Film Institute (ISFI) managing director Anne Lajla Utsi, read the proclamation of the fund that "Indigenous storytelling through filmmaking will carry our valies visions and dreams for generations to come."
The aim will be to back film projects that "enhance indigenous peoples' culture, languages and socieities."
Activities will focus on capacity building, climate, environment, indigenous land rights and indigenous knowledge. The Fund aims to be self-sustaining with return on investments.
The operation expenses for 2019 are expected to be $6.7m (52.5m NOK), predicted to rise to $26.7m (210m NOK) by 2021. The pilot programme for the new Fund was the Arctic Film Circle, estblished in 2014.
Filmmaker David Lynch sent a message of support for the new fund to be shared at the three-day conference, which has welcomed 130 participants from across the globe.
Attendees include filmmakers Andrew Maclean, Nils Gaup and Amanda Kernell; festival experts Maryanne Redpath (Berlinale), Bird Runningwater (Sundance) and Jason Ryle (ImagineNATIVE); the European Film Academy board; executives from the Norwegian, Finnish and Swedish Film Institutes; and funders including Petri Kemppinen from the Nordisk Film & TV Fond and Steven Loft from the Canada Council for the Arts.