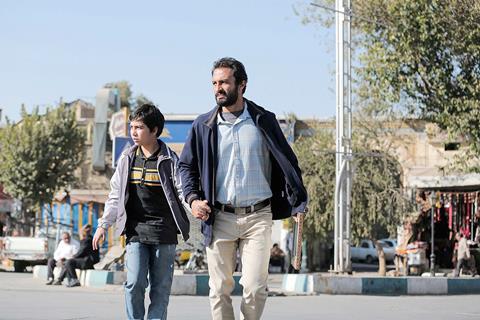 The Doha Film Institute's youth and family-focused Ajyal Film Festival kicks off its ninth edition this Sunday (November 7) with director Asghar Farhadi's Cannes Grand Prix winner and Iranian 2022 Oscars submission A Hero as the opening film.
Farhadi has long-time ties with the DFI, having acted as a Qumra master at the 2017 edition of its talent incubator event. The film will be represented at Ajyal by Hamid Ghorbani, who produced the film with Alexandre Mallet-Guy, and actors Amir Jadidi and Fereshteh Sadre Orafaiy.
Running from November 7 until 13 under the banner of "Press Play!", Ajyal's ninth edition marks a return to a nearly full-scale, in-person event after last year's reduced, socially-distanced, hybrid festival due to the Covid-19 pandemic.
"There's been rigorous planning," said festival director and DFI CEO Fatma Hassan Alremaihi. "We've worked closely with the Ministry of Health. They were impressed by our approach last year and have used that edition as a model for how events should be done during the Covid-19 pandemic."
"Finding films has not been an issue this year because there were a lot of films that had been backed up due to the pandemic," she explained. "We found a lot in Cannes, Toronto and even earlier festivals like Sundance. There was a lot available and it was really difficult to choose. We had to let go of some really amazing gems that we hope to bring to Qatar through our year-round programming at the DFI instead."
A number of the works in the line-up have been supported by the DFI's grant programme, including Lebanese director Mounia Akl's prize-winning drama and 2022 Oscar submission Costa Brava, Lebanon, and Iranian director Sahar Mossayebi's inspirational tale Orca, about a woman who takes up long-distance swimming to heal the scars of abuse by her ex-husband.
Other selected grantees include US-based Iranian directorial duo Shirin Neshat and Shoja Azari's political satire Land Of Dreams, Palestinian director Abdullah Khateeb's documentary Little Palestine, Diary of a Siege Night and Lebanese director Oualid Mouaness's 1982. The latter title will play as a special inclusive screening to mark the UN International Day of Persons with Disabilities.
Further fiction feature titles include Egyptian director Omar El Zohairy's 2021 Cannes Critics' Week winner Feathers, Kurdish director Ferit Karahan's multiple prize winner, the boarding school drama Brother's Keeper, Belgian director Bouli Lanners's English-language amnesia tale Nobody Has To Know, and Iranian director Mehdi Hoseinivand Aalipour's family drama Asteroid. The latter won the top prize at the Fajr International Film Festival.
The selection also features a number of high-profile feature documentaries including US director Jeremy Workman's 2021 SXSW Grand Jury prize winner Lily Topples The World Nobody Has To Know, and Egyptian director Ali El Arabi's Captains Of Zaatari, about two Syrian refugees with dreams of becoming professional footballers.
There will also be a series of family-friendly, drive-in screenings in Doha's Lusail neighbourhood of classics such as 101 Dalmatians, Harry Potter & The Philosopher's Stone, and Maya the Bee - The Golden Orb.
Although international travel is still restricted amid the Covid-19 pandemic, a handful of filmmakers are confirmed to physically attend including Workman, El Arabi, with his two real-life Syrian protagonists Mahmoud Dagher and Fawzi Qatleesh, Akl, Mossayebi, Khateeb and Aalipour.
As in previous years, Ajyal's awards will be decided by the festival's trademark youth juries – spanning Mohaq (eight to 12-years-old), Hilal (13 to 17-years-old and Bader (18 to 25-years-old). In a reflection of Doha's cosmopolitan population, this year's 490 jurors hail from more than 50 countries.
Local talent
Beyond the feature film programme, Ajyal will also showcase 10 works by locally-based talents in its Made In Qatar sidebar which is traditionally one of the most popular strands with local audiences.
"This year's selection is particularly exciting because some of the works have played in international festivals before debuting here," said Hassan Al Remaihi, citing Majid Al-Remaihi's And Then They Burn The Sea and Shaima Al-Tamimi's Don't Get Too Comfortable, which world premiered at Locarno and Venice respectively.
The other works in the selection include Khalifa Al Thani's dystopian drama Border, about a man trying to get back to his family; Mohamed Al Hamadi's Kan Fe Nas, exploring life in Beirut in the aftermath of the August 2020 explosion; Fatma Zahra Abderrahim's A Lens Under Water, capturing the teeming seas off Qatar; Balkees Al-Jaafari and Tony El Ghazal's Remnants, about a trip down memory lane visiting abandoned sites of Qatar; Alessandra El Chanti's animated doc When Beirut Was Beirut, and Khalifa Al-Marri's drama Olayan, about a Bedouin boy who forms a bond with a baby camel.
"Olayan, which will have its world premiere, is one of our biggest productions ever in terms of short films in the country. It's a really nice, local story."
Three of the featured shorts - Ania Hendryx Wojtowicz's Fever Dream, Suzannah Mirghani's Virtual Voice and the previously mentioned And Then They Burn The Sea - were developed under the auspices of the Short Documentary Lab run by Cambodian filmmaker Rithy Panh as a joint venture between the DFI and his Phnom Penh-based Bophana Center.
Beyond the screenings
During the festival, the downtown Sikkat Wadi Msheireb neighbourhood will be home to Ajyal's popular Geekdom event and the art exhibition 'We Will Not Leave'.
The latter initiative is inspired by the Palestinian residents of the Sheikh Jarrah neighbourhood in East Jerusalem as they battle to stay in their long-time homes in the face of efforts by Israeli settler organisations to evict them.
Guests will include Muna El-Kurd, who made it onto Time magazine's 'The 100 Most Influential People Of 2021' list this summer, with her twin brother Mohammed El-Kurd, for their citizen journalism documenting their family's fight to remain in their home against a backdrop of violence by armed Israeli settlers and military police.
Palestinian director and DFI artistic advisor Elia Suleiman and the UK-Palestinian Oscar-nominated filmmaker and human rights advocate Farah Nabulsi will participate in separate public talks as part of the exhibition.
"It focuses on Palestinian art and artists and is a homage to the people of Sheikh Jarrah and their suffering," explained Hassan Al-Remaihi.