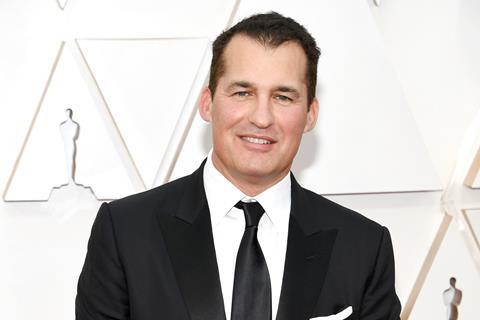 As the head of global film at Netflix, Scott Stuber oversees global development, production and acquisition of the streamer's feature slate, a powerhouse pipeline that has yielded Alfonso Cuaron's Roma, Martin Scorsese's The Irishman, and current awards season prospects such as Jane Campion's The Power Of The Dog and Maggie Gyllenhaal's The Lost Daughter.
Since arriving at the company in 2017, the industry veteran has built a pipeline that encompasses most genres from Adam Sandler comedies to Susanne Bier-directed horror film Bird Box starring Sandra Bullock, and Noah Baumbach's arthouse darling Marriage Story with Scarlett Johansson and Adam Driver. Under his tenure, Netflix is on track this year to deliver a new film every week.
Prior to Netflix, Stuber founded and ran Bluegrass Films, the company behind Ted and Central Intelligence, among others. Before that, he was vice chairman of worldwide production at Universal Studios where his films included the Fast And Furious and Bourne franchises, A Beautiful Mind, 8 Mile, Meet The Parents and its follow-up films. He talks to Screen International about theatrical windows, telling universally appealing stories and what excites Steven Spielberg.
As someone who came through the Hollywood system, why did you take the Netflix job?
I did it for multiple reasons. I saw the shift was happening, I knew the business I'd come from and it felt like a real opportunity to take a job and learn. It was exciting to build a studio from scratch because no-one gives you that opportunity. The business had got pretty selective because of the consistency of the windows. It was giant IP, animation and horror. I like all that but I love Taxi Driver and I love Do The Right Thing and I love The Piano. I'm not even sure if those films could have got made [anymore] and so I was like, "Well, it would be nice to come make them." My hope is that [the industry] will get to a place where there will be a dynamic nature to that theatrical window so artists like Spike Lee can get that theatrical and then get the width of the audience. And I hope there will be young artists coming through like there was in the '70s. I see it in the Safdie brothers a little bit; I see it in Jeymes [Samuel] who made The Harder They Fall.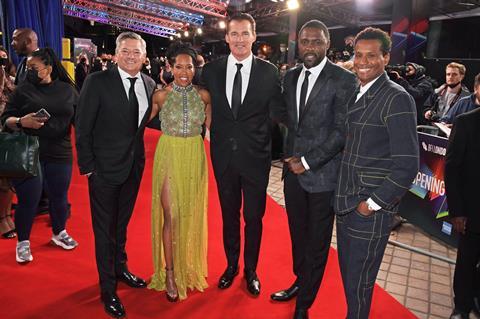 What is the Netflix original films strategy?
The whole premise is to get to a place where you make the best films for your audience and like any film studio you want to be perceived as a place that delivers the best in whatever that may be. Much of it has been recruiting the talent, the world-class filmmakers, the stories that fit in that place. As we evolve it's about continuing to improve. For four years there was a lot of [talk about], "Were the movies good enough?", and we've pushed through that and had a lot of success in the Academy nominations. We don't sub-brand so I'd like us to be delivering the best versions of films across our animation team, international team and documentary team as well as the English scripted team.
How do you give filmmakers the budget and creative vision they desire without letting things get out of control?
Every script is different. We always joke in the budgeting process somebody can write one line that says, "The army comes over the hill", and that can be a $2m line. So you have to just know what the movie is and feel like the audience size is the budget size. You know when there's a wider audience for it and the movie requires it, and sometimes you read a script and there's eight action scenes and you only need five.
Is the goal to move towards more originals and fewer acquisitions?
It is in a sense but we're still very active in the acquisitions market. The Lost Daughter was something we acquired. We acquired Passing at Sundance and Halle Berry's directing debut Bruised at Toronto last year. At the end of the day, you're trying to find the best movie you can. Obviously we're a company based on originals, which we're developing and trying to make, but whether it's in the spec market or whether it's in the finished film market, we're still going to be looking wherever we can to find the best things.
How did the pandemic and production shutdowns impact the pipeline?
This year was affected, frankly, because there were so many issues around shutdowns and then all these things around post [production] in terms of editing facilities, scoring facilities that came into play. So far, knock on wood, I feel pretty good about next year because we learned as an industry and we as a company were vigilant about trying to make those sets as safe as possible. We're all leaning into the new normal and getting people back to work.
This year you're on track to release around 70 original films. Will you stick to that number going forward?
We stay around 50 to 55 on English scripted, somewhere around there. Over time we'll probably do less… Because of technology the consumer has so many entertainment choices in front of them and so continuing to make our films as great as they can be is going to be one of our big differentiators. So if there's 50 great ones we know we can deliver, let's do it. If there's 40, let's do 40. There's no steadfast number.
Netflix recently acquired the Roald Dahl Story Company — talk about the significance of owning IP and building libraries.
That's an incredible library and we'd made good inroads with them on a variety of things. [Taika Waititi and Phil Johnston are working on a series based on the world of Charlie And The Chocolate Factory.] We're also working with Sony and Working Title on an adaptation of Matilda The Musical. So there was a lot of comfort with Luke [Kelly, Dahl's grandson who will continue to lead the company as MD] and the family and it was just an organic way to expand the business. There's a real opportunity to expand the universes in the stories.
Netflix acquired rights to two Knives Out follow-ups in a $465m mega-deal. What drove that?
It's a combination. Rian [Johnson] is such an incredible filmmaker and for us to have the chance to get in business with him on these two films as well as hopefully others is a big opportunity. It's rare that you have this piece of IP that's really recent — a lot of times you're getting something that's older and you're trying to redo it. You have the recent success of the filmmakers, Daniel Craig and a script that we thought was fantastic and an extension of a terrific franchise.
Amazon Studios is in the process of buying the James Bond IP through its impending deal to acquire MGM. Did Netflix go after that?
We always look at things. There's a lot of stuff that comes through the market and there's a lot of M&A [mergers and acquisitions] activity but historically as a company we've been builders not buyers so we didn't feel like that was the right thing at that time for us.
So you didn't pursue it aggressively?
No.
Were you in the mix to buy Christopher Nolan's Oppenheimer project?
We've talked to Chris about trying to find something and I think for him at that moment he found the right home at Universal. Donna [Langley, Universal Filmed Entertainment Group chairman] is a great filmmaking partner and [Nolan] wanted to continue with what he had established before [long exclusive theatrical windows]. Right now that's not in our business model so I think it was the right positioning. Hopefully down the road we'll be able to make something together.
What does your theatrical release strategy look like?
On roughly 30 movies a year we have theatrical. Strategically we're new and when you're going into the market with new things against established IP, it's not an easy business model. We're trying to find our way into it and we've tried anywhere from day-and-date to five weeks on different things because it's not one size fits all. With the changes [in the landscape], there will be opportunities and different distribution models.
What's it been like bringing the vision of filmmakers like Jane Campion with The Power Of The Dog and Paolo Sorrentino with The Hand Of God to fruition?
We were very solicitous. When I read those scripts, I thought they were beautiful and then we sat down with Jane and Paolo and saw what they wanted to do. They're two of my favourite filmmakers. Jane has always been someone I've admired deeply as a fan. One of the great things about this job is you're a fan of people and then you get to work with them.
What compelled you to buy Maggie Gyllenhaal's feature directing debut The Lost Daughter?
It was a revelatory moment when we saw the movie. We've been lucky enough to work with Maggie in the past [Netflix bought North American rights to the 2018 remake of The Kindergarten Teacher, which Gyllenhaal starred in and produced] and we've had great success with Olivia Colman [on The Crown]. It's still great when you see a movie and it surprises you or excites you. A lot of times you're mining for gold and many times you just find dirt. But when you find gold, it's a great thing.
After staying away from festivals in 2020, you returned to Venice with a bang and premiered all three films there. What's the importance of festivals for Netflix?
I love festivals. It's one of the most magical things about the movie business because inevitably festivals feed into the Academy Awards but in the early stages all that other stuff is not there yet — it's just excitement and discovery. It's such a thing for the filmmaker to be recognised.
Netflix has won Oscars although you're still awaiting a best picture win. Are you in the awards game for the long haul
It's still the recognition of what the peer group thinks is the best in class that year, and for us every artist aspires to it. I like being a place that people think we can help them get there.
Are festivals and awards meaningful to subscribers?
When an audience knows something won at Venice or won an Academy Award or got nominated, it's the recognition of a peer group in that world that makes them say, "I want to see that." One of the great things about the last couple years with films like Roma, Parasite and now The Hand Of God is these international stories are really becoming global.
Netflix has a long-term deal with Longcross Studios and a permanent production base at Shepperton. What's the value in having a strong UK presence and will you expand your footprint there?
Historically what I've loved about the UK is its world-class craftsmanship. The talent loves working there and London is a great place to be if you have to be away from your family. We're always looking but as of now I'm just happy we have a place in what I think is one of the best places in the world to make films.
Netflix is also an avid producer in Spain. Do you agree the squeeze on available soundstages in Europe, plus rising costs for cast and crew, challenges independent producers and could impact storytelling across the entire ecosystem?
I don't think that's true. What's happening is you're seeing everyone recognise that global storytelling is so valuable and there's an enormous amount of terrific storytelling in Europe. We're putting money into training crew in the UK and Spain because it really is about job opportunity. You're going to see all these companies coming in and making a lot of European stories and there will just be more jobs and more opportunity. I don't think any of it's going to shrink. I think it's going to widen out.
Netflix's main subscriber growth is outside the US. Are you looking for more local-language content?
We're growing our international business organically because we've got great teams around the world constantly looking for those best stories. But when you get down to it, you can't get lost in all those questions like what if it worked here or there. I've always found if the character at the centre of the story is someone that everyone can identify with, that's a global movie.
Have Netflix's algorithms ever changed the creative direction of a feature?
No. At the end of the day it's about your gut.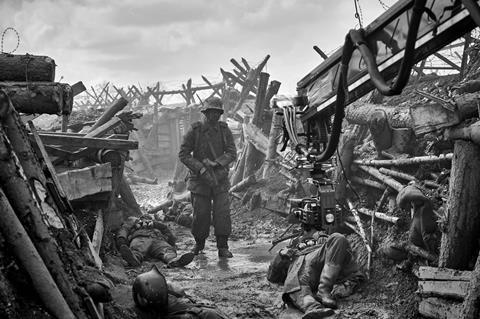 Which international filmmakers and territories do you have your eye on?
We're trying to make sure that if we make something in Germany, the German audience loves it first and then can we grow it outside [of the territory]. We are making a film with Ed Berger, All Quiet On The Western Front. I think he's an incredible talent and that's a movie that will make a noise not just in Germany but around the world. We've got a big French action comedy [Tour De Force] that Louis Leterrier's making for us with Omar Sy [they worked together on hit Netflix series Lupin]. All this global talent will be able to tell stories in their indigenous language and so many of their stories will have the opportunity to travel. It was rare before all this change and then you saw Narcos come in and La Casa De Papel [Spanish series Money Heist] has been a huge show for us. People are watching content with subtitles.
Some indie producers have told us they don't feel incentivised making films for Netflix because they don't retain the IP and end up becoming service producers.
I hope not. And if anyone does [feel that way], they can call me. We're trying to make the company the best place for talent to work. And it's also a company that's not afraid of criticism because we actually know that if there's a good critique of us then we've got to fix it and make it better.
After you acquire a film, when does its IP revert to the producers?
It all depends on the deal. A lot of times we buy out the whole world. Some of them are licence deals so that's when they would revert.
How are Netflix compensation deals structured?
We always work with the talent representation and say, "Here's what your usual fee is and here's what your back-end considerations are," and their lawyer and our lawyer come to an agreement and say, "Okay, if this movie were hugely successful, this would be the opportunity for that artist." Where it's an even huger success than the pre-negotiated deal, we'll recognise that. We don't want anyone to feel like they were taken advantage of or that they lost an opportunity and so far people feel we're really good about compensating talent.
Do you see talent deals changing in light of Scarlett Johansson's recently resolved Black Widow spat with Disney?
The agencies are trying to figure out how to push the parameters and be thoughtful about getting the best deal for their talent, which has always been their job so I don't think the behaviour is any different.
Filmmakers say Netflix are good creative collaborators. Deep pockets help but how do you foster that production culture?
With the creative process you always have to have empathy. To me our job is to be precise with our nos, be enthusiastic with our yeses, and to be great advocates and partners throughout that process. I want to make sure my team communicates with filmmakers rather than just dropping an edict on them.
Netflix revived rom-coms. What other genres are you looking at?
It's always been a very good global business to be in action. We had a good year with films like Extraction and The Old Guard. We're moving into more PG-13 films like Red Notice, The Adam Project and The Grey Man. Those of us of a certain age lovingly talk about the Amblin-esque giant family adventure film and that's something we want to be in.
Speaking of Amblin, how did you persuade Steven Spielberg to partner with you, and when can we expect the first content?
Steven still loves storytelling and culture. I think for him it's the excitement of how can we tell a bunch of exciting stories together. You'll probably see things starting in the 2023 slate.
Netflix has said it will share more viewership data over time. How will that change?
It'll continue to evolve as the world is changing and you want to get to some level of consistency in the accuracy of the reporting. So much of what everyone's trying to do is compare apples to oranges. I think everyone's going to get there. We've been more transparent than anyone in this space and we're trying to continue that way.
You had first-mover advantage in the streaming world, but does the launch of new heavyweight streamers change what you do?
It doesn't really. At the end of the day you're always competing with the town for the best material and the best talent. You can't pay attention to what everyone else is doing. You have to be aware of it but at the end of the day your job is to make the best stuff.
Spotlight: Netflix's upcoming movie slate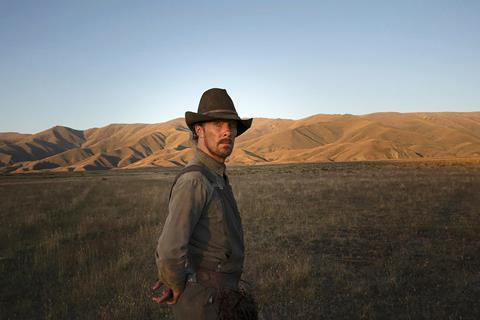 Netflix titles arriving soon, including current US release dates where announced
This year
Bruised (cinemas: November 17; Netflix: November 24)
Halle Berry directs and stars in the redemption tale about a female MMA fighter.
Don't Look Up (cinemas: December 10; Netflix: December 24)
Leonardo DiCaprio and Jennifer Lawrence star for Adam McKay as astronomers who believe a comet strike is imminent.
The Hand Of God (cinemas: December 3; Netflix: December 15)
Paolo Sorrentino's autobiographical coming-of-age drama is set in Naples of the 1980s, and is Italy's Oscar submission.
The Lost Daughter (cinemas: December 17; Netflix: December 31)
Maggie Gyllenhaal's directing debut about motherhood stars Olivia Colman, Jessie Buckley, Paul Mescal and Dakota Johnson.
The Power Of The Dog (cinemas: November 17; Netflix: December 1)
Jane Campion's Venice best director prize-winner stars Benedict Cumberbatch and Jesse Plemons as feuding brothers.
Red Notice (Netflix: November 12)
Action comedy about an agent tracking the world's most wanted art thief stars Dwayne Johnson, Gal Gadot and Ryan Reynolds.
tick, tick… Boom! (cinemas: November 12; Netflix: November 19)
Opening AFI Fest on November 10, Lin-Manuel Miranda's feature‑directing debut stars Andrew Garfield as an aspiring theatre composer.
The Unforgivable (cinemas: November 24; Netflix: December 10)
Sandra Bullock plays a violent offender released from jail in this drama from System Crasher director Nora Fingscheidt.
Next year
The Adam Project
Ryan Reynolds and Zoe Saldana star in a time-travel sci-fi adventure.
All Quiet On The Western Front
Edward Berger directs Daniel Brühl in a German-language adaptation of Erich Maria Remarque's 1929 anti-war classic.
Day Shift
Steve Howey and Jamie Foxx star in this fantasy comedy about a father who is a vampire hunter.
The Gray Man
Anthony and Joe Russo direct Chris Evans, Ana de Armas and Ryan Gosling in this assassin thriller.
Knives Out 2
Rian Johnson directs the continuing adventures of detective Benoit Blanc, played by Daniel Craig.
Me Time
Mark Wahlberg and Kevin Hart lead this comedy about a family man who connects with an old pal for a wild weekend.
The School For Good And Evil
Charlize Theron stars in a fantasy adaptation of the bestselling children's book of the same name.
Slumberland
Jason Momoa stars in a fantasy adventure comedy about a young girl's quest to find her father.