The Busan festival's market offering reported a strong increase in attendees this year.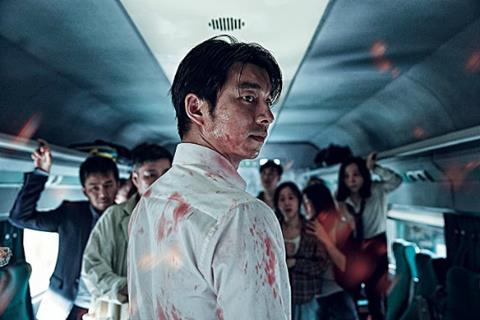 Busan's Asian Film Market closed today (Oct 11) with organisers reporting an increase in participation with 742 companies from 47 countries, up from last year's 535 companies from 42 countries.
Korean sales companies such as Contents Panda, CJ Entertainment and M-line Distribution reported heightened interest in titles such as Train To Busan [pictured], Asura: The City Of Madness and Busan International Film Festival (BIFF) opening film A Quiet Dream, although they were not yet ready to announce deals at time of writing.
The Asian Film Market's Entertainment Intellectual Property (E-IP) Market saw first-time exhibitors such as Kadokawa Corporation, web comics publisher DCON E&M and Kyobobook (Macaroon).
All in all, a total 157 companies from 24 countries opened sales booths, with 42 companies from 13 countries presenting 63 films in 68 market screenings. 50 of the titles were market premieres in Busan.
Buyers attending the E-IP Market included Chinese companies such as Alibaba Pictures, Huace Union, Huayi Brothers and Wanda Media and Korean companies such as Sidus, Showbox and Opus Pictures.
The market also had 214 films made available in online screenings, including 172 films from the BIFF line-up. (The online screening service is available to market badge holders until Oct 31.)
Asian Film Market/Asian Project Market Selection Committee member Susan Chae told Screen: "We're planning to expand the E-IP Market next year to become a Northeast Asian hub with Japanese manga, Taiwanese novels and Chinese web novels in addition to Korean webtoons, dramas and original scripts. We'll select ten titles from each country that will be appropriate for being made into films and visual content for markets such as the US, Europe and China."
The market reported an "average 3,000 visitors per day, 550 APM meetings facilitated at APM, more than 30 meetings held per day at Korean sales booths, and an increase in deals made at the E-IP Market."
Luna Kim, SVP of international sales at Showbox said, "Despite everything [including dampened China-Korea relations and the partial boycott of the fest], the market was the same for us – buyers are aggressive in finding new Korean films, so it's been good. There are new buyers coming back for Korean films, especially after the success of Train To Busan in multiple territories."
With the BIFCOM locations and post-production showcase running separately this year along with a reduced budget, the Market had about 50% less floor space but sellers did not seem to mind less foot traffic.
"It's not like a walk-in-and-shop kind of business we do here. People are aware of your projects and have done their homework in advance. We pre-schedule meetings, so foot traffic doesn't really matter here," said Kim.
Sales agents in the EFP stand found the umbrella booth's casual layout with spontaneous walk-ins conducive to business.
"It's really good for establishing new relationships. The camaraderie here amongst the sellers is great, and we even introduce buyers to one another," says Anna Chettle, sales manager at HanWay.
"It's a different kind of market for us – the pace is slower and it's good because we can meet with the some companies that maybe can't make it out to the other markets. It's a great time to focus on the Asian market and there's no better place to meet as Busan," she said.
The company had Bhutanese title Hema Hema: Sing Me A Song While I Wait in BIFF's A Window on Asian Cinema and Chettle says they have seen interest although are not yet ready to announce.
Although industry professionals sometimes question the need for multiple physical markets in the age of online, sellers confirmed the continuing need to meet face-to-face.
"We get spontaneous walk-ins and even with people we already know, it's necessary to meet to talk about the harder content that you can't just put in an email," said Elise Cochin, international sales exec at Wide House.