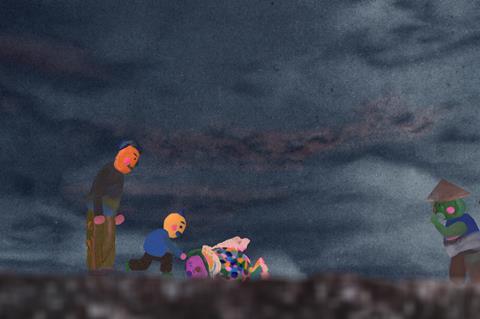 Asian Shadows has acquired Rotterdam Tiger competition title Silver Bird And Rainbow Fish, the first feature animation by Chinese animator Lei Lei, for international sales.
Previously known as Ningdu, the US-Dutch co-production will premiere during International Film Festival Rotterdam's online edition (January 26-February 6), before making its international premiere in Goteborg followed by a market debut at EFM. Amsterdam-based Periscoop is aiming to release the title in Benelux in the second half of 2022.
Blending personal stories with collective memory, the animated feature documents the Lei family's struggle for survival during the tumultuous 1950s and '60s in China as they recall the past to make sense of the present. Lei mixes different visual layers such as modelling clay, old family photos, documentary footage and pop-art animation to explore themes including memory and how people distinguish reality from fiction.
Maria A. Ruggieri, head of sales and acquisitions at Asian Shadows, said: "We found the combination of the film's unique, personal vision, strong family story, and powerful setting during an incredible historical and political moment fascinating and compelling. We believe in the universality of this family's journey, of the human struggle to survive troubled times."
Asian Shadows previously collaborated with Lei on Breathless Animals, which played in Berlinale Forum in 2019 and won best mid-length documentary at Cinéma Vérité. Lei has also made multiple award-winning animated shorts.
Silver Bird And Rainbow Fish is produced by Lei's US-based C-Ray Studio, Isabelle Glachant's Hong Kong-based Chinese Shadows and co-produced by Amsterdam-based Submarine. Dutch crew includes editor Patrick Minks and composers Tessa Rose Jackson and Darius Timmer.
The project has participated in several project markets, including Rotterdam Cinemart in 2017 where it received the Wouter Barendrecht Award.