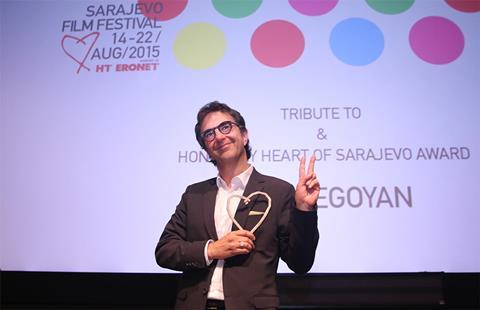 Playtime has partnered with Canada's Elevation Pictures, Ego Film Arts and The Film Farm on Atom Egoyan's Guest Of Honour, the second English-language project involving the Paris company to be announced out of TIFF.
Days after Playtime revealed it was remaking with Animal Kingdom the Austrian genre hit Goodnight Mommy, co-founder Nicolas Brigaud-Robert said Egoyan was preparing for a November production start in Ontario on his new "twisted morality tale".
The Oscar-nominated writer-director of The Sweet Hereafter wrote the script about the relationship between a man and his imprisoned twentysomething daughter, who wants to remain incarcerated even though she believes she was wrongfully convicted of sexual assault. Elevation Pictures will distribute in Canada.
"I'm particularly excited and passionate about this script," said Egoyan. "And I'm thrilled to be working with partners Playtime and Elevation Pictures, who have clarity and understand my vision for the film and are very well positioned to help me share this film with audiences around the world."
Brigaud-Robert, who has been keen to board projects at an earlier stage, added, "We have always been big fans of Atom's work. He is one of the great voices of contemporary cinema. Guest Of Honour is the type of script you think about long after turning that last page. We know that this is a movie that will resonate with movie-goers around the world."
Egoyan produces with Simone Urdl and Jennifer Weiss. Brigaud-Robert, Sebastien Beffa, and Noah Segal serve as executive producers.
Regular collaborators Ego Film Arts and The Film Farm are producing with the participation of Telefilm Canada.
Playtime is at TIFF presenting co-productions Non-Fiction by Olivier Assayas and Sunset by László Nemes in Special Presentations, and third-party sales titles Angelo by Markus Schleinzer in Platform, and Rithy Pahn's Graves Without A Name at TIFF Docs.