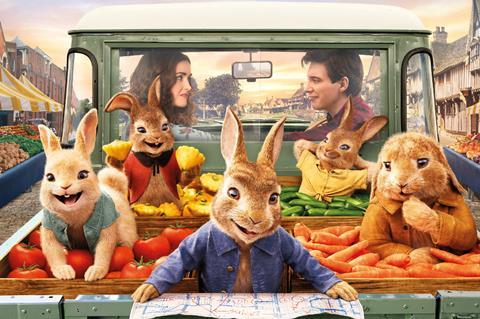 Australian films and co-productions garnered 11.8 % of the local box office market in 2021, the biggest share for 35 years, according to figures from Numero/Motion Picture Distributors Association of Australia (MPDAA).
Sony's Peter Rabbit 2, an Australian-US production, was the highest grossing local film, with a gross of US$16m, but with Roadshow's literary adaptation The Dry, starring Eric Bana, snapping at its heels with a 2021 gross of $14.6m (total gross is $15.5m thanks to 2020 previews).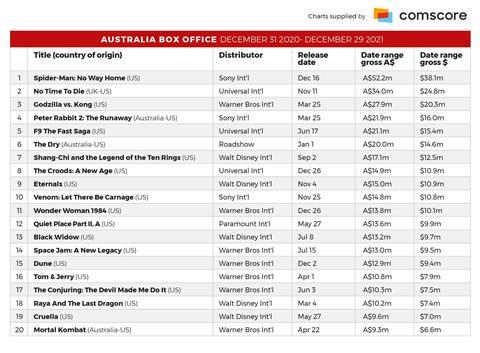 The other biggest local performers were Warner Bros' Mortal Kombat ($6.6m) Roadshow's Penguin Bloom ($5.4m) and Madman's High Ground ($2.2m).
The strong performance of Australian films can be attributed to increased access to screens as US product was held back, appealing films being available, and a concerted and co-operative marketing campaign called 'Our Summer Of Cinema' that was led by Screen Australia with the distributors. The campaign particularly emphasised The Dry, Penguin Bloom, High Ground and the documentary Firestarter. It was so successful that February 2021 saw four loocal films in the top five: The Dry, Penguin Bloom, High Ground and Occupation: Rainfall.
Total box office
Gross box receipts to December 31 reached $434.2m (A$605.2m) in 2021, up 50% on the year before ($291m/A$405m ) but less than half the gross of 2019 which was $861m (A$1.2bn), the third highest annual gross on record, according to Numero/Motion Picture Distributors Association of Australia (MPDAA).
Sony's Spider-Man: No Way Home was the success story of the year, grossing $39.7m for Sony in the final two weeks of 2021. As of mid-January 2022, it has now exceeded $50,2m (A$70m) – only Avatar, Star Wars: The Force Awakens and Avengers: Endgame have reached that dizzy height – and took about $2.9m in the week up to 20 January 2022 alone.
The top international (non-Australian, non-US) studio film was Studiocanal's Guy Ritchie action film Wrath of Man, starring Jason Statham which grossed $5.2m and finished the year just outside the top 30.
2022
Australia's zero tolerance for Covid-19 in 2020 and most of 2021, lead to vigilance, strict lockdowns in some states, social distancing, and masks. As vaccination numbers rose, consumer confidence began to recover but then Omicron hit in late 2022 and the federal Ggvernment adopted what's termed locally as a "let it rip" policy. Cases sky-rocketed and now there's staffing issues and a general reluctance to go out much. How 2022 pans out is anyone's guess.