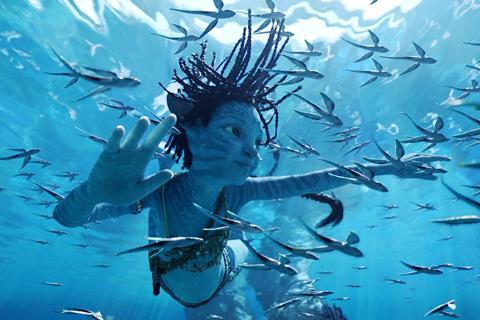 Avatar: The Way Of Water has reached $180.1m at the global box office after its first three days, earning $127.1m internationally and $53m in North America through the end of Friday in what is expected to be a $400m-plus five-day global opening weekend.
James Cameron is celebrating his highest first day in North America as the action fantasy beat the $27m opening day of 2009's Avatar, which finished on $785.2m and remains the highest-grossing global release on $2.9bn. Prior year grosses are unadjusted. 3D performances and premium screens accounted for 58% of opening day business.
Latest international tallies put the 20th Century Studios/Disney/Lightstorm action fantasy sequel on $9.8m in China. It is the first major release in the market since Minions: The Rise Of Gru in August and secured 98% market share and strong social scores – Maoyan 9.3, TPP 9.2, Douban 8.4 – despite Covid outbreaks in the country impacting cinema-going.
Elsewhere Avatar: The Way Of Water has taken $9.5m in France, $8.5m in Germany, $5.9m in Mexico and India – the second highest opening day of all time for a Hollywood release and 96% market share – and $5.4m in Australia.
The tentpole opened in the UK on $4.5m for the fourth highest Friday opening day of 2022 and secured 83% market share. It delivered the same number in Italy and $3.7m in Brazil.
South Korea generated the fifth highest opening day of the pandemic era and second highest December opening day ever with 85% market share. Across the 52 material international territories, market share ranged from the low-80's to mid-90's.
Disney executives have revised opening weekend forecasts as advance ticket sales on the film indicate cinema-goers are pacing themselves and plan to see it across the opening and second weekends, rather than the more familiar front-loaded viewerships pattern on, for example, a Marvel release.