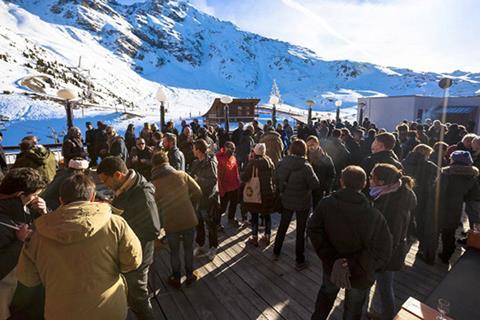 Tizza Covi and Rainer Frimmel's Austrian Vera has won the Crystal Arrow award at the 14th Les Arcs Film Festival which wrapped on Friday night in the French mountain resort.
A jury presided over by prolific French actor-director Roschdy Zem gave its great jury prize to Teona Strugar Mitevska's The Happiest Man In The World. Acting prizes went to Yothin Clavenzani for Ghost Night and Annabelle Lengronne for Léonor Serraille's Mother And Son, which also won a prize for best photography for Helene Louvart. The film is distributed by Diaphana in France and sold by MK2 Films.
Pierre Földes won the award for best score for Blind Willow, Sleeping Woman (Gebecka Films) and the festival's audience prize went to David Wagner's Eismayer, on which Loco Films handles sales. The Cineeuropa Prize for went to Alex Schaad's Skin Deep from Beta Cinema.
Vera, sold by Be For Films internationally, will receive €20,000 towards a digital campaign for the film on partner France Television's website. The Italian-language film originally premiered in Venice this year and tells the story of the eponymous girl, living in the shadow of her famous father, who forms an intense relationship with a young boy and his father after a car accident.
The Happiest Man In The World, sold by Pyramide Films, also premiered in Venice and follows a 40-year-old single woman living in Sarajevo who attends a speed dating event and meets a banker seeking forgiveness.
The Youth Jury Prize, given by local high school students, went to The Happiest Man In The World with a special mention for Skin Deep.
The week-long European cinema festival and co-production market wrapped on Friday night with Baya Kasmi's Youssef Salem a du Succès.
This year's return to a full in-person event featured more than 100 films including mostly French premieres and presented a panorama of European-made films. Highlights from the week included a focus on Alpine cinema, a new section devoted to best international feature film Oscar nominees, homages to director Cedric Klapisch and actress Veerle Baetens and the Les Arcs Woman of Cinema Prize which went to Houria and Papicha director Mounia Medour.
The snowy, star-studded event also featured talent visits from Jeanne Balibar, Romain Duris, Ursula Meier, Hugo Becker and a surprise musical performance from Pete Doherty. The Les Arcs Film Festival ran December 10-17.