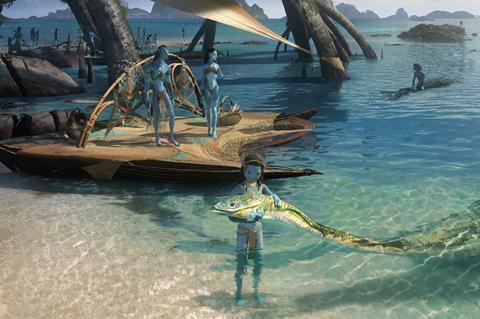 Avatar: The Way of Water is set to pass the $1bn mark at the international box office today (Jan 3), the latest milestone for the Disney/Lightstorm blockbuster that has now grossed more than $1.44bn globally after 20 days.
The James Cameron epic took $41.1m internationally on Monday (Jan 2), the last day of the holiday period in many markets, and $21.2m domestically, according to Disney. That added $62.3m to the film's overall tally of $997m international and $446.1m domestic.
The sequel already stands as the number one international release of 2022 and is fast approaching the $1.1bn achieved outside North America by Hollywood's number top international release of the pandemic era, Spider-Man: No Way Home.
The Way of Water now stands as the eleventh biggest international release of all-time and the thirteenth biggest global release, having just passed the $1.4bn tally of Avengers: Age of Ultron. It ranks as the second biggest global release of 2022, fast approaching the $1.49bn of Top Gun: Maverick.
The film's individual market totals include $162m from China, $93.7m from France, $76.1m from Korea, $70.5m from Germany and $57.7m from the UK.
Domestically The Way of Water is the second biggest release of 2022, having just passed the $440m of Black Panther: Wakanda Forever.