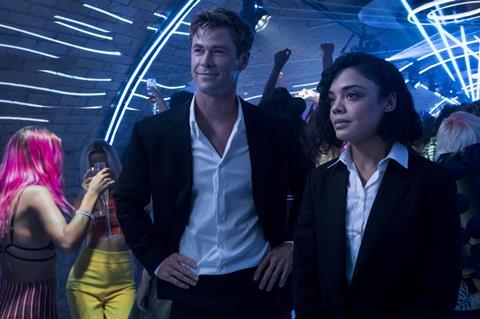 The dismal $30m North American box office debut by Men In Black: International has added fuel to early summer talk of franchise fatigue, however as potential hits wait in the wings, one analyst has said talk of a negative box office trend is premature.

The season is long and the release schedule packed with a raft of box office contenders. As Comscore senior media analyst Paul Dergarabedian puts it: "There's no franchise fatigue – it's bad movie fatigue."
Sony Pictures' Men In Black spin-off stars Chris Hemsworth and his Thor: Ragnarok co-star Tessa Thompson and scored the lowest opening weekend of the four-film franchise, the first three of which were headlined by Will Smith and Tommy Lee Jones and spanned 1997-2012.
Samuel Jackson returned in New Line's crime thriller Shaft and it too disappointed, arriving at number six on $8.9m through Warner Bros, way behind Jackson's last outing in the role in 2000.
The press has been chock-full of jeremiads about sequels, spin-offs and reboots after last weekend's poor debut by Fox's X-Men spin-off Dark Phoenix, which tumbled a heavy 71.5% in its second session and stands at $52.1m, and the North American performance of Godzilla: King Of The Monsters, struggling to live up to its name on $94.4m after three weekends.
In all three cases, international box office has painted a brighter picture, as is often the case. Besides a decent $72.9m launch for Men In Black: International, roughly three-quarters of Dark Phoenix's $200m-plus worldwide running total has come from international, and Godzilla: King Of The Monsters has amassed $248m of its $342m global haul outside the US.
While North American box office for the aforementioned releases paints a disheartening picture, it is too soon for gloomy prognostications about box office in summer and beyond. This week (June 21) brings the launch of Disney-Pixar's Toy Story 4, the latest entry in a smash franchise and one that has earned glowing reviews and looks poised to bring back the summer sun.
Horror Child's Play – a reboot of the series featuring the maniacal doll Chucky whom audiences first met in 1988 – also opens this week, through United Artists Releasing. While it remains to be seen how that will perform, a creepy female doll could deliver bigger results one week later on June 26, when Warner Bros unleashes New Line's Annabelle Comes Home, the third entry in a $500m-plus global franchise that launched five years ago.
"It's amazing how short-sighted we are," said Dergarabedian. "We had a couple of movies underperform in franchises, but Avengers: Endgame, John Wick 3 and even The Secret Life Of Pets 3, although it did less than the first one, were really solid performances. Of course there have been [a few disappointments] – Dark Phoenix, Men In Black: International and Godzilla: King Of The Monsters fall into that category – but it's a mix. It's not a trend."
Dergarabedian continues: "There's no franchise fatigue – it's bad movie fatigue. Streaming and small screens and theatres are complementary and additive, however when you have that much content on streaming, the content in theatres has to be that much better. People want to go to the movie theatre, but if it's something nobody really asked for and on top of that the movie doesn't deliver, then that's a problem.
"People are voting with their absence and will be voting with the dollars and their presence when Toy Story 4, Spider-Man: Far From Home, The Lion King open, along with all those other movies that I believe will be big hits. We tend to apply long-term thinking to short-term trends when that's not really what's going to happen. The entire complexion of this idea of franchise fatigue will likely change in two weeks or less – we'll be sitting here a month from now in July when a lot of these big movies open – and we could be saying something different." Dergarabedian also cites Annabelle Comes Home and Fast & Furious Presents: Hobbs & Shaw as potential heavyweights.
Sony executives will be licking their wounds after Men In Black: International's North American performance, however they are expected to have more luck with Spider-Man: Far From Home when that tentpole launches on July 3. Insiders are forecasting $150m-$180m for the six-day July Fourth holiday weekend, which seems realistic given that curiosity will be high for the first entry in the Marvel Cinematic Universe since Avengers: Endgame, and the character's enduring popularity.
July 19 brings Jon Favreau's The Lion King from Disney, a reboot of the beloved property last seen on screen 25 years ago. Insiders say it could gross more than $1bn worldwide. And it would take a brave fool to bet against Universal's Fast & Furious Presents: Hobbs & Shaw (August 2), a high-octane spin-off focusing on Dwayne Johnson and Jason Statham that is expected to capitalise on the franchise's huge global following and ability to deliver muscular box office returns.
Beyond summer, anticipated sequels to major hits include September 6 release of Warner Bros-New Line's It: Chapter 2; Lionsgate's Rambo: Last Blood on September 20; Warner Bros' Batman spin-off Joker starring Joaquin Phoenix on October 4; and Disney's Maleficent: Mistress Of Evil starring Angelina Jolie on October 18.
Then comes Terminator: Dark Fate from Paramount, Skydance and Tencent on November 1; the Charlie's Angels reboot from Sony on November 15 starring Kristen Stewart and Elizabeth Banks; and Frozen 2 on November 22, another blockbuster-elect from the Disney hit factory that many expect to soar past the $1bn threshold.
Speaking of which, nobody doubts that Disney-Lucasfilm's third trilogy finale, Star Wars: The Rise Of Skywalker, will be a giant when it launches on December 20, rounding out what observers say could become a highly lucrative year for sequels, spin-offs and reboots.