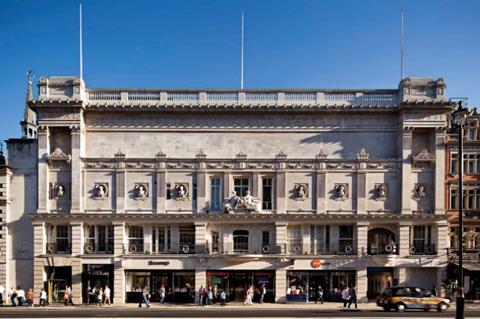 Bafta has revealed new details about the £25m redevelopment of its London headquarters, 195 Piccadilly, as construction work on the project gets underway.
The next door building at 194 Piccadilly has been leased by Bafta to act as its temporary home while the works are being completed. It is now open to the public as an exhibition space and includes facilities including a café. An additional space dedicated to Bafta members will be opened at 194 Piccadilly from September.
Bafta will continue to host events throughout the renovation process, with some taking place at the temporary home and others at alternative venues.
The work will double the capacity of the building at 195 Piccadilly, with completion projected for summer 2021. The organisation said the new facilities will enable Bafta to support over 80,000 people who are developing a career in the creative industries each year.
The work will also add new technology, and create a floor devoted to Bafta's learning and new talent programmes.
195 Piccadilly has been used for regular Bafta sessions both in and out of awards season, including the Life In Pictures series of interviews with leading film and television talent.
Over 70% of funds have been raised for the redevelopment, with Bafta conducting further fundraising to meet its £25m target.
The development is being funded by donors from across the film, games and television industries, plus individual philanthropists, trusts and foundations. It has also received a grant from the Mayor of London's Good Growth Fund.