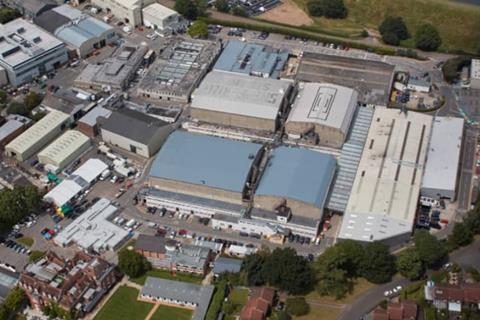 Netflix is opening its long-awaited new UK production hub at Shepperton Studios, taking over the facility's entire 14 sound stages.
The streaming giant has signed a long-term lease, understoood to be for around 10 years, to rent the 14 sound stages, as well as workshops and office space at the site in Surrey, owned by the Pinewood Group, from October this year.
The first Netflix original production to film at Shepperton will be The Old Guard, starring Charlize Theron and directed by Gina Prince-Bythewood.
Separately, Pinewood is undergoing a £500m expansion at the Shepperton site, which will include a further 16 sound stages that, once built, will be available for rental. The company is looking to break ground on the development next year.
The move, first rumoured last year, signals how Netflix has signigicantly ramped up their commitment to the UK in recent times. In the past year more than 25,000 cast, crew and extras have worked on around 40 Netflix originals and co-productions across Britain, including Julian Fellowes' football series The English Game in Manchester and Sex Education in Wales.
The number of employees in Netflix's London office on Mortimer Street had risen from 15-20 to around 130 over the past 12 months.
"Shepperton has been synonymous with world class film for nearly a century and it's an important production hub for the UK creative community today," said Ted Sarandos, chief content officer, Netflix. "We're incredibly proud to be part of that heritage. This investment will ensure that British creators and producers have first rate production facilities and a world stage for their work."
Amanda Nevill CBE, chief executive, BFI, added: "It's fantastic to welcome another global player to the UK, the world's creative powerhouse. With all the opportunities it will bring for UK talent and UK expertise to create new homegrown stories to enthrall audiences worldwide, it's great to see Netflix making their home here."
Paul Goldman, chairman, Pinewood Group Limited, said: "Netflix's decision to base their production hub at Shepperton is a strong vote of support for the Pinewood Group and gives us great confidence as we expand our UK studios. Our plans, which represent the single biggest expansion of stage space across the UK, will see Pinewood Group open twenty-two new sound stages, enabling us to host even more productions. This growth will help secure the ongoing success of the UK film and TV industry."
Benjamin King, Netflix's director, public policy, UK, speaking at the House Of Lords yesterday, outlined how "the UK is a major locus for us in production terms… globally it's probably the third most important behind the US and Canada." He added: "We are confident there's substantial scope for us to increase our investment in the UK."