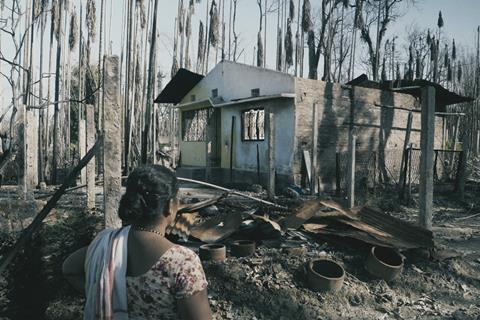 Kannada-language drama Shivamma, directed by Jai Shankar, and Baghjan, an Assamese and Moran-language drama from Jaicheng Zxai Dohutia, were presented with the Prasad Labs and Qube Moviebuff Appreciation Awards in the Works-in-Progress (WIP) section of Film Bazaar Online 2021.
A special mention by the WIP Lab Mentors went to A Space Of Our Own (Ek Jagah Apni), a Hindi-language drama directed by the Ektara Collective. The mentors said in a statement that they wanted to recognise the film "for challenging the conventional structures of filmmaking and it's warm and human handling of the unique theme".
Among previous Film Bazaar WIP Lab entries are three films that have been travelling to international festivals this year and last – Nithin Lukose's Paka - River Of Blood, Natesh Hegde's Pedro and Shankar's Fairies, directed by Irfana Majumdar.
In the Film Bazaar Recommends (FBR) section, the Prasad Lab DI Award & Moviebuff Appreciation Award went to Leesa Gazi's Bengali-language A House Named Shahana. "From the film segments emerge a strong and affecting story of a woman's journey to her emotional freedom, an important story that doesn't simplify matters by being too didactic or direct about its stance on gender issues," said the FBR jury, comprising programmers Kiki Fung, Stephan Borsos and Park Sunyoung.
Two short films also picked up awards in the FBR section – Sohil Vaidya's Marathi-language Murmurs Of The Jungle and Amrita Bagchi's English and Hindi-language Succulent.
My Share Of Sky (Ek Mutthi Badal), produced by Nepal's Abhimanyu Dixit, was presented with the Rotterdam Lab Award, which involves the producer attending the Rotterdam Lab Programme at International Film Festival Rotterdam in 2022.
The Institut Francais & Produire Au Sud Award 2021, which includes support for script translation into French and two script consultations, went to The Forgotten History, a co-production between Afghanistan and Spain, directed by Roya Sadat and produced by Alba Sotorra Clua.
Institut Francais' Juliette Grandmont and Produire au Sud's Guillaume Mainguet said they "were impressed by this bold project, and proud to attribute this award for a story from the female perspective, especially from a region where countless stories need to be told."