Claudia Pedraza's debut feature scooped the $20,000 top prize at the Bogotá Audiovisual Market.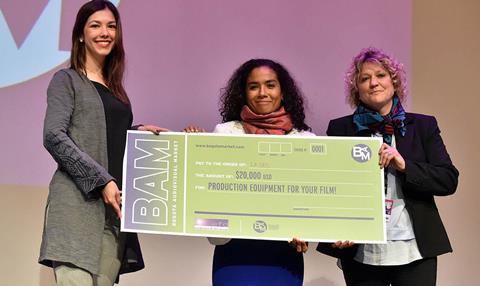 The seventh edition of the Bogotá Audiovisual Market closed on Friday (July 15) with this year's award-winners illustrating the energy and diversity of the Colombian film industry.
La Sed (The Thirst) won the EFD (Equipment and Film Design Colombia) Prize, which comes with $20,000 (€18,000) worth of EFD shooting equipment. The film marks director Claudia Pedraza's [pictured] debut feature after working as first assistant director on Ciro Guerra's Embrace Of The Serpent.
La Sed, a Marejada Films production, is a drama set in a world where the lack of water has made living conditions extreme. With a budget of $490,000 (€443,000), the film will be shot next year in La Guajira desert in Colombia, the same location where Ciro Guerra is planning to shoot Pájaros De Verano, his next feature following the success of Embrace Of The Serpent, which won at Director's Fortnight in Cannes 2015 and went on to earn an Oscar nomination.
"Embrace is our jewel in the crown", said Alejandro Bernal, general manager of new channels and film at Caracol Televisión, the network that backed Ciro Guerra's production.
It was a successful bet on auteur cinema, and the synergies between production powerhouses and new Colombian talents seems to be a trend that others are willing to explore. Dynamo's collaboration with Burning Blue (Land And Shade) to produce Jaime Osorio's next film (Gran Dragón) is another example.
The seventh edition of the Bogotá Audiovisual Market has had a record 1,500 participants, including more than 100 sales agents.
The feeling around the event was positive with the Colombian film industry seemingly enjoying the benefits of the growing country's economy and the ratification of a definitive ceasefire between the government and the FARC guerrilla movement.
Other winners
Other winners at this year's BAM include La Intromisión, the documentary directed by Oscar Campo and produced by Jhia Hernández, and fiction feature El Rumor Del Astracán, which took the Cinecolor prize.
Selected BAM projects will next participate in industry events at the Rotterdam and San Sebastián film festivals.
Heading to the 64th edition of San Sebastián in September are Dopamina, a documentary essay by Natalia Almario produced by Oscar Ruiz Navia (director of the critically acclaimed El Vuelco Del Cangrejo); Tantas Almas by Nicolás Rincón and produced by Manuel Ruiz and Héctor Ulloque; and El Duende (The Elf) by Jorge Navas.
El Duende is Jorge Navas' take on tropical gothic, a genre he will also explore in Desobsesión, produced by Diana Bustamante's Burning Blue (Land And Shade).
The three projects chosen to attend Rotterdam in December are: Siameses, by Fernando López and produced by James Valderra; El Paraíso, by Roberto Flores and produced by Diana Lowis; and Claudia Pedraza's La Sed.
Jhonny Hendrix Hinestroza, co-producer of La Sed, also had another project at BAM: La Tropa (The Troop), a war drama about a sergeant kidnapped by FARC who ends up as an unexpected hero. Based on the director's idea that "war never leaves anything good behind", the film will be developed between 2017 and 2018.
In the meantime, Hinestroza is going to shoot Candelaria this summer. A film about a mature Cuban couple who end up making a sex tape. A co-production between Hinestroza's Antorcha Films and Germany's Razor Films, it was one of the projects chosen for the World Cinema Fund awards this July with funding of $55,300 (€50,000).
IndieBo festival
BAM overlapped again this year with the IndieBO festival, co-founded by Paola Turbay, Alejandro Estrada and Juan Carvajal. The second edition opened with Junction 48, Udi Aloni's film which won this year's Berlinale Panorama Audience award.
"The festival (July 14-24) has the objective of spreading culture and auteur cinema in the city. Culture and education are key in this country to recover from years of conflict and violence", explains Alejandro Estrada.