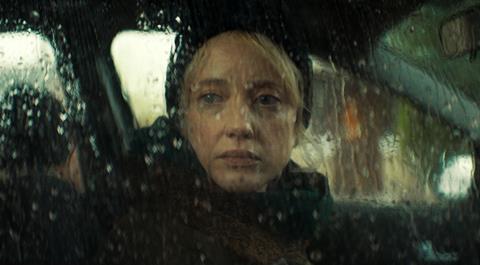 Bankside Films has taken worldwide sales to UK writer-director Stacey Gregg's feature debut Here Before starring Andrea Riseborough.
The UK sales outfit will be introducing the project and showing a promo to buyers at the Cannes virtual Marche running June 22-26. It has released a first look image [see above].
Here Before is in post-production after shooting in Belfast, Northern Ireland, and stars Riseborough with Jonjo O'Neill, Martin McCann, Eileen O'Higgins, and newcomer Niamh Dornan.
Gregg's previous work as a theatre and television writer-director includes co-directing Inside Bitch for the Royal Court Theatre, and writing Sophia Al-Maria's Little Birds for Warp Films and Sky, Riviera for Sky, and The Innocents for Netflix.
Riseborough plays Laura, who becomes captivated by Megan (Dornan), the young daughter of a new family that moves next door. She stirs up painful memories of her own daughter who died several years previously and before long Laura's memories turn to obsession as Megan's unsettling behaviour begins to convince her of something supernatural.
The film is produced by Julia Godzinskaya and Sophie Vickers for Rooks Nest and is backed by BBC Films, Pia Pressure and Northern Ireland Screen. It is executive produced by Eva Yates for BBC Films, Pia Getty and James Durrant for Pia Pressure, and Will Norton for Rooks Nest.
"Here Before is a beautifully crafted take on a story which will resonate widely with international audiences," said Bankside Films director Stephen Kelliher. "Stacey Gregg expertly treads the delicate line between what is real and what you want to be real and the result is a film which is both spine-tingling and intensely moving. Andrea Riseborough's performance as a mother haunted by a ghost from the past is truly mesmerising."