Warner Bros' epic battle achieves biggest ever Fri-Sun result for a superhero film.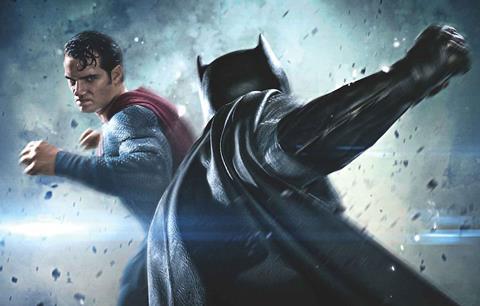 WARNER BROS
Despite a less than heroic critical reception, Batman v Superman: Dawn Of Justice has posted a record-breaking UK debut over the Easter weekend.
Warner Bros' epic battle soared to a terrific $20.8m (£14.63m) from its 614 sites for the biggest opening of 2016 to date, topping Deadpool's five-day $19.5m (£13.73m) bow from 543 sites.
Batman v Superman's opening also ranks as the biggest ever Fri-Sun result for a superhero film, surpassing Avengers: Age Of Ultron's $20.4m (£14.42m). Overall, it ranks as the third biggest superhero opening, behind both Avengers films due to their previews.
Including Bank Holiday Monday [March 28], Batman v Superman stands at $25.6m (£18.02m) meaning its opening four days are, remarkably, level to Age Of Ultron's $25.5m (£18.02m).
It's now a question of how much its soft critical response will impact on its holdovers. The first target will be Man Of Steel's $42.5m (£30m) result as the biggest Superman film, which it could be close to toppling by the end of this coming weekend.
DISNEY
It might have missed out on the top spot, but Zootropolis (AKA Zootopia) also enjoyed a strong start to its UK run.
Disney's latest animation hopped to $7.5m (£5.3m), including $2.4m (£1.7m) in previews, from its 577 sites. That just missed out on being Walt Disney Animation Studios' best-ever opening, which remains Bolt's preview-boosted $7.7m (£5.45m) from 594 sites.
With school holidays running for two weeks, Zootropolis should benefit from its strong critical reaction and word-of-mouth. It wouldn't be a surprise for it to take around £1m, at least, each day.
After taking another $2.4m (£1.7m) on Monday, it stands at $10m (£7m) and while it's unlikely to reach the mega heights of Frozen ($59.2m/£41.8m), you wouldn't yet rule out £30m if it manages to sustain its run.
FOX
Suffering with the arrival of Zootropolis, Kung Fu Panda 3 dropped to third with a $1.7m (£1.2m) third weekend, a 26% drop.
Fox's threequel is up to $13.5m (£9.49m) and will hope to benefit from the school holidays, despite the presence of Zootropolis, in order to challenge Kung Fu Panda's $24m (£16.87m) result. The sequel's $28.9m (£20.29m) is potentially too far away.
Also for Fox, Deadpool is now the fifth biggest superhero film of all time with $53.2m (£37.39m) after slicing its way to $293,000 (£205,940) over its seventh weekend.
Kapoor And Sons and Alvin And The Chipmunks: The Road Chip stand at $585,000 (£411,198) and $22.9m (£16.06m), respectively.
UNIVERSAL
Landing over a decade since the original, Universal's My Big Fat Greek Wedding 2 charted fourth with a $1.4m (£983,534) debut from its 434 sites.
That's down on its predecessor's $2.1m (£1.5m) bow from 341 sites back in 2002, before it went on a terrific run to finish with $19.2m (£13.57m). A similar run is unlikely for the sequel which stands at $1.9m (£1.3m) as of Monday.
Also for Universal, Hail, Caesar! and The Witch have amassed $6.6m (£4.6m) and $1.6m (£1.08m), respectively.
PARAMOUNT
10 Cloverfield Lane fell more than 50% in its second weekend as it rounded off this week's top five.
Paramount's sort-of sequel added $1.1m (£771,000), with a further $326,000 (£229,000) yesterday pushing it to $5.1m (£3.56m). It won't match Cloverfield's $13.7m (£9.6m) result.
LIONSGATE
Falling 47% in its fourth weekend, Lionsgate's London Has Fallen shot to a further $804,000 (£564,470) for $13.8m (£9.68m) to date. It will soon hit £10m, a strong result given the critical mauling.
Also for Lionsgate, Sing Street dropped only 22% for a $134,000 (£93,889) second weekend in Ireland and a running total of $581,000 (£408,458).
ENTERTAINMENT
Over the four-day weekend, Entertainment's The Boy scared up an extra $614,000 (£429,783) for an 11-day total of $2.3m (£1.64m).
EONE
In its third week, eOne's The Divergent Series: Allegiant grossed $442,000 (£310,447) and has now crossed the £4m mark to stand at $5.7m (£4.02m), still some way short of Divergent ($9.4m/£6.6m) and Insurgent ($11.2m/£7.9m).
STUDIOCANAL
As expected, Studiocanal's High-Rise became director Ben Wheatley's best-ever UK performer within its first week.
The JG Ballard adaptation then enjoyed a $391,000 (£273,289) second weekend for $1.7m (£1.21m) to date, including Monday.
SODA PICTURES
Alice Winocour's Disorder posted a $108,000 (£75,284) UK bow from its 50 sites through Soda Pictures.
CURZON ARTIFICIAL EYE
After three weeks in play, Curzon Artificial Eye's Anomalisa stands at $817,000 (£573,651), taking an extra $80,000 (£55,983) over the weekend.
VERTIGO RELEASING
Opening in ten sites through Vertigo Releasing, Welcome To Me could only manage a $2,300 (£1,586) UK debut, rising to $2,800 (£1,942) including Monday.
UPCOMING RELEASES
This week's only saturation release is Lionsgate's Eddie The Eagle, which opened yesterday and will have a seven-day opening.
Curzon Artificial Eye's Victoria receives a wide release, while Metrodome's Black Mountain Poets and Arrow Films' Anguish are among the films receiving a limited release.