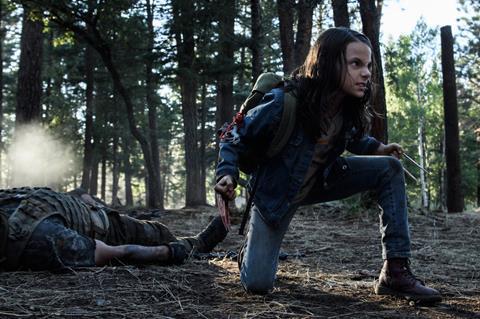 Logan, Padmaavat and Atomic Blond topped the 2017 list of film complaints received by ratings body the British Board of Film Classification (BBFC), according to the organisation's annual report.
Comic book adaptation Logan starring Hugh Jackman received 20 complaints from members of the public (a small number compared to previous years), with some viewers concerned that the violence in the 15-rated film would be more appropriate for an 18 rating. The BBFC said that while the violence in Logan is "strong and frequently bloody", the focus on action rather than sadism and fantastical setting distanced it from reality.
Hindi-language drama Padmaavat, which was submitted in two versions received 10 complaints the film misrepresented a revered figure in India. However the BBFC felt there was nothing in the film that was unacceptable at the 12A category.
Atomic Blonde attracted eight complaints over the film's violence, sexual content and language. The stylised manner of the violence, and the level of detail in its sex scene and sparse use of strong language kept the film rated at 15, according to the BBFC.
The ratings board noted the total volume of complaints it received in 2017 was lower than in previous years, with only 262 complaints received compared to 371 in 2016.
Further films to receive complaints included Kingsman: The Golden Circle, Kong: Skull Island and Alien: Covenant.
Crowded distribution space
The report also revealed the number of theatrical releases submitted for classification has grown by 82% over the past 10 years.
In 2017 the BBFC age rated 1,048 films for cinema release, representing compared to 574 in 2007. This is slightly down on 2016 when the organisation rated 1,075 theatrical films, the highest number ever.
Once again 15 remains the most common age rating with 392 theatrical classifications last year (compared to 222 in 2007), though there were more films with a 12A age rating in 2017 (378) than ever before.
Finally, the report illustrated the continued growth of online subscription services such as Netflix, Amazon and NowTV.
The BBFC viewed 3,565 digital-only works in 2017 – or 160,000 minutes of content classified – up 25.3% from 2016. Sky-owned NowTV does not submit its content to the BBFC.