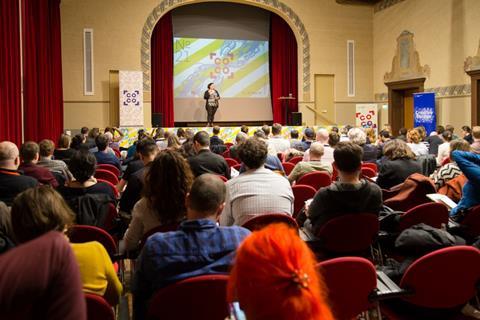 New films from the Czech Republic's Beata Parkanová and Slovenian director Martin Turk are among the projects in development and works in progress being presented at the 24th edition of the East-West co-production market Connecting Cottbus (coco), which takes place from November 9-11 during Germany's FilmFestival Cottbus.
Parkanová's feature project Black Blood, produced by Ondrej Zach of Prague-based Ozet Film, sees her returning to Cottbus after presenting her previous feature The Word as a work in progress at last year's Connecting Cottbus.
The Word had its world premiere at this year's Karlovy Vary festival where it won the awards for best director and best actor.
Black Blood is one of 13 projects in development being presented at the cocoPITCH selection.
Martin Turk and producer Ida Weiss of Bela Film will also be at the co-production event with his fourth feature Washed And Buried, which centres on a successful lawyer belonging to the Slovenian minority in Italy who discovers long hidden family secrets. Turk's previous credits include Don't Forget to Breathe and Good Day's Work.
Two projects in the line-up are by Ukrainian filmmakers who have also been supported this summer by the Filmboost grant scheme launched by the German Film Academy with Docudays UA.
They are Stanislav Bytiutskyi's debut feature Inheritance, to be produced by Valeria Sochyvets and Inna Lastochkina of Contemporary Ukrainian Cinema, and Nikon Romanchenko's feature State, which was originally going to be shot this summer until the Russian invasion delayed production.
"We consider it necessary not to stop work on the film but, on the contrary, to adapt to the new times," Romanchenko said.
The cocoPITCH line-up also includes Pavel G. Vesnakov's Bulgarian-Italian co-production Deconstruction and Greek director Minos Nikolakakis' Asphalt.
Meanwhile, this year's showcase of six works in progress - cocoWIP - will include Georgian Giorgi Mukhadze's debut feature, the coming of age drama When You Are 17, which is co-produced by Titus Kreyenberg's Berlin and Cologne-based unafilm, and Romanian directorial duo Gabi Virginia Sarga and Catalin Rotaru's Where Elephants Go which won the Transilvania Pitch Stop - coco Award this June in Cluj.
Several recent international festival titles were previously pitched at Connecting Cottbus' as a project or work in progress.
They include Marina Er Gorbach's Klondike, which won the Best Director Award at this year's Sundance, Maksym Nakonechnyi's Butterfly Vision, which premiered in Cannes' Un Certain Regard and Michal Blaško's Victim, which had its world premiere in Venice's Orizzonti.