Live-action remake triumphs on buzz chart ahead of its release today (March 17)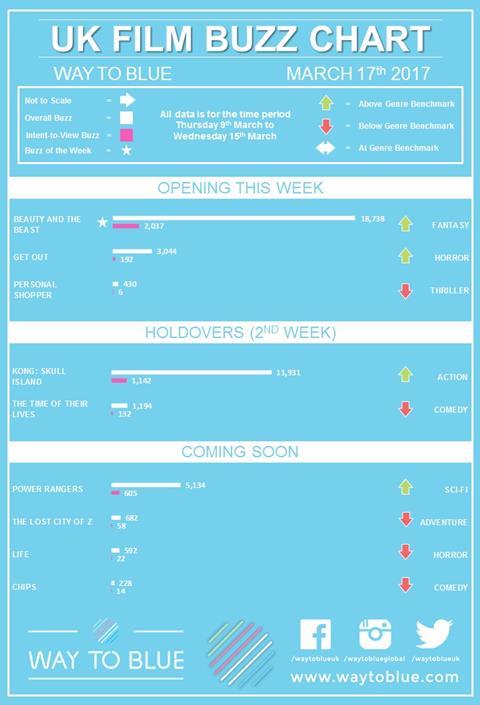 Beauty And The Beast, Disney's live-action remake of its animated classic, garnered the most buzz on UK social media between March 9-15, besting runner-up Kong: Skull Island.
Of the 20,775 comments received by Beauty And The Beast across the internet, including news and social media, 2,037 displayed an intent to view, according to numbers provided by analysis firm Way to Blue.
The Emma Watson-led film, which is released in the UK today (March 17), has made national headlines recently due to its "gay moment" which has led to it being pulled from release in Malaysia and an adults-only rating in Russia.
Kong: Skull Island, now in its second week of release, received 1,142 intent to view comments out of 13,073 total comments, an increase in its second week of release.
Power Rangers, the sci-fi action film starring Elizabeth Banks, ranked third in social media buzz with 5,739 total comments ahead of its March 24 release.
Jordan Peele's horror comedy Get Out ranked fourth ahead of its release.
For an explanation of the Way to Blue chart and its methodology, which tracks 'overall buzz' and important 'intent to view' buzz, click here.