EXCLUSIVE: UK deal secured for Nick Gillespie's psychological thriller Belly Of The Bulldog.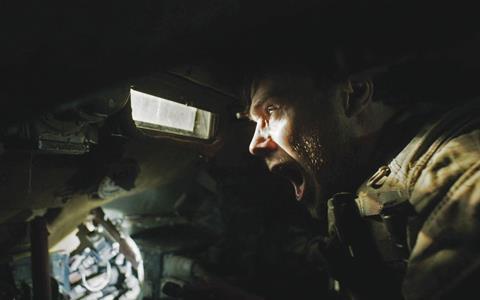 Kaleidoscope has picked up UK rights to Belly Of The Bulldog.
Nick Gillespie's feature debut was executive produced by High-Rise director Ben Wheatley, who provided creative guidance throughout. Gillespie has worked alongside Wheatley over the past seven years on projects from Kill List to the upcoming Free Fire.
"We've capture some of the most explosive sequences I could ever of hoped for, and having Ben involved from script stage has really helped these elements come together," said Gillespie.
"We really got our hands dirty filming this one, cutting the sides off real tanks, running people over with tanks, setting people's heads on fire, and things like that. It was a real challenge but we did it."
Produced by Finn Bruce and Jen Handorf, Belly Of The Bulldog follows a group of mercenaries and their human cargo, all of whom are trapped inside an abandoned tank as their unidentified enemy closes in.
It stars Rupert Evans, Michael Smiley, Deirdre Mullins, Tom Meeten, Gordon Kennedy, April Pearson and Steve Garry. The film screened at last year's Film4 FrightFest Halloween event in an unfinished version.
Kaleidoscope sales and acquisitions executive Michael Chapman added: "Belly Of The Bulldog is a very promising debut from Nick Gillespie with a fantastic UK cast. We're exciting to be sharing the film with audiences later this year."
Gillespie has previously directed shorts including Samuel And Emily Vs The World and The Chariot.