Shakespeare adaptation will become the first ever live 4K broadcast to multiple cinemas under Sony, Vue and NT Live partnership.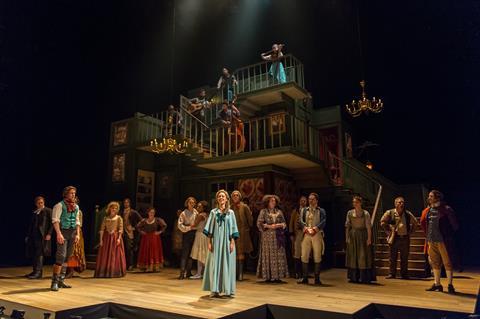 National Theatre Live, Vue Entertainment and Sony Digital Cinema 4K have unveiled the next two NT Live productions to be captured in Sony 4K.
On Oct 15, Lyndsey Turner's Hamlet, starring Benedict Cumberbatch in the lead role, will become the world's first ever multi-site live 4K transmission in selected Vue cinemas across the UK. Hamlet is already the fastest-selling show in London's theatre history.
Prior to Hamlet, Simon Godwin's 18th Century comedy The Beaux' Stratagem will be shot in Sony 4K and delivered for exclusive 'encore' screenings across Vue's 84-site estate in September, after the show's NT Live broadcast on Sept 3.
Both productions will be captured using Sony F-Series 4K cameras which deliver four times the resolution of Full HD. Hamlet will be transmitted with 4K resolution at 50 frames per second to ensure smooth, realistic reproduction of the action on stage.
Speaking to ScreenDaily, Emma Keith, producer for NT Live, noted that capturing the two productions in 4K will act as "future-proofing". "To be able to capture it in the best technology possible means that the life on it would be longer than it would be traditionally," outlines Keith.
"Hamlet felt like a bit of a no-brainer with Cumberbatch starring, while The Beaux' Stratagem is a period piece so it's really interesting, from our perspective, to see how the colourful costumes and the intricate set will translate in 4K."
The two productions mark the next step in a year-long partnership between NT Live, Vue and Sony Digital Cinema, which started in March with the 4K screening of Rufus Norris' Behind the Beautiful Forevers.
For Johnny Carr, content manager for Vue Entertainment, the partnership continues Vue's commitment to giving their customers the "very best in choice of content combined with the very best in big screen technology". "The National Theatre are the biggest out there in terms of Event Cinema given their releases. It's a fantastic product and to take that one step further by offering it in the best quality possible is super exciting."
"The National Theatre have proved in the short time that Event Cinema has been playing in cinemas that they are providing top quality content, and the numbers for War Horse, The Audience and others prove that," enthuses John Bullen, VPF and content manager at Sony Digital Cinema (Europe).
"From a technology perspective, we believe that 4K offers the next step in the evolution of Event Cinema. When done correctly, as we believe we are doing in this partnership, 4K provides a truly immersive viewing experience."
As well as staying at the forefront of technology, Keith believes that 4K presentation ensures that the National Theatre has an advantage in the ever-more competitive Event Cinema arena.
"What's fantastic about working with 4K is that we're at the cutting edge and, particularly in relation to being live at multiple venues, we're helping to influence and establish the workflow for that model. HD workflow works, so 4K needs to work in the same way. It can't be that you need ten extra people or another truck," explains Keith.
Carr notes that the customer feedback to Behind the Beautiful Forevers was "absolutely fantastic" and compares the impact of 4K presentation to "seeing Blu-Ray for the first time". He adds that with NT Live, "you're not just getting the best view, you're getting the best six views with the very best possible presentation, bar none."
Going forward, Bullen says that there is an aim to increase the number of 4K productions, but The Beaux' Stratagem and Hamlet are the priority at the moment. "We've got two huge challenges coming up and a lot of work that needs to go into them. Post-October, we'll sit down and see what we do next, but anything we do will have to be as innovative, bright and bold like our first three productions."
Keith concludes: "Through NT Live and 4K, you get to see things you don't see in the theatre. This partnership is allowing us to do a little bit of everything with really different shows, from different theatres with different designs. We just want to make sure we're keeping as wide a range as possible."