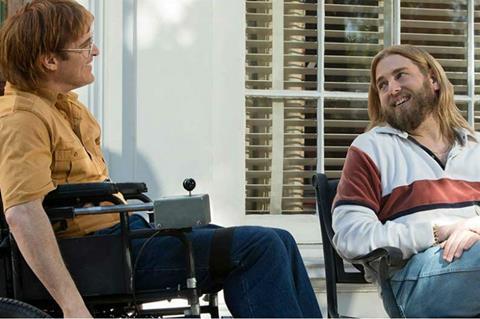 The Berlin Film Festival (15 - 25 Feb) has revealed the first films within its Competition and Berlinale Special lineups.
Directors including Benoit Jacquot, Gus Van Sant, Alexey German Jr., Małgorzata Szumowska, Philip Gröning, Thomas Stuber and Laura Bispuri will compete in this year's Competition while Isabel Coixet and Lars Kraume feature in the Berlinale Special strand.
Alongside the previously announced opening film, Isle of Dogs by Wes Anderson, seven productions and co-productions from France, Germany, Italy, Poland, Switzerland, Serbia, the Russian Federation, and the USA are announced for the Competition.
Gus Van Sant's drama Don't Worry, He Won't Get Far, which will debut at Sundance, is the only film announced today which is not a world premiere. Joaquin Phoenix, Jonah Hill, Rooney Mara and Jack Black star in the biopic of John Callahan who became paralyzed after a car accident at age 21 and turned to drawing as a form of therapy.
In Isabelle Huppert thriller Eva, a playwright encounters a mysterious woman when he takes shelter in a chalet during a violent snowstorm. The sixth collaboration between director Jacquot and Huppert is adapted from James Hadley Chase's novel which was previously made into a 1962 movie directed by Joseph Losey with Jeanne Moreau in the title role.
Stuber's drama In The Aisles stars Toni Erdmann actress Sandra Hüller, while Bispuri's drama Daughter Of Mine, sold by The Match Factory, charts the relationship between a young girl and her biological and adoptive mothers.
German Jr., whose latest film Under Electric Clouds also played in Berlin's competition, returns with a movie dedicated to several days in the life of Russian writer Sergei Dovlatov.
Meanwhile, Coixet's drama The Bookshop, recent recipient of 12 Goya nominations in Spain, stars Emily Mortimer as a woman who decides, against polite but ruthless local opposition, to open a bookshop, a decision which becomes a political minefield.

Competition
Don't Worry, He Won't Get Far on Foot
USA
By Gus Van Sant (Milk, Promised Land)
With Joaquin Phoenix, Jonah Hill, Rooney Mara, Jack Black, Udo Kier
International premiere
Dovlatov
Russian Federation / Poland / Serbia
By Alexey German Jr. (Paper Soldier, Under Electric Clouds)
With Milan Maric, Danila Kozlovsky, Helena Sujecka, Artur Beschastny, Elena Lyadova
World premiere
Eva
France
By Benoit Jacquot (Three Hearts, Diary of a Chambermaid)
With Isabelle Huppert, Gaspard Ulliel, Julia Roy, Richard Berry
World premiere
Figlia mia (Daughter of Mine)
Italy / Germany / Switzerland
By Laura Bispuri (Sworn Virgin)
With Valeria Golino, Alba Rohrwacher, Sara Casu, Udo Kier
World premiere
In den Gängen (In the Aisles)
Germany
By Thomas Stuber (Teenage Angst, A Heavy Heart)
With Franz Rogowski, Sandra Hüller, Peter Kurth
World premiere
Mein Bruder heißt Robert und ist ein Idiot
Germany
By Philip Gröning (Into Great Silence, The Police Officer's Wife)
With Josef Mattes, Julia Zange, Urs Jucker, Stefan Konarske, Zita Aretz, Karolina Porcari, Vitus Zeplichal
World premiere
Twarz (Mug)
Poland
By Małgorzata Szumowska (In the Name of, Body)
With Mateusz Kościukiewicz, Agnieszka Podsiadlik, Małgorzata Gorol, Roman Gancarczyk, Dariusz Chojnacki, Robert Talarczyk, Anna Tomaszewska, Martyna Krzysztofik
World premiere
Berlinale Special Gala
The Bookshop
Spain / United Kingdom / Germany
By Isabel Coixet (Things I Never Told You, My Life Without Me, The Secret Life of Words)
With Emily Mortimer, Bill Nighy, Patricia Clarkson
German premiere
Das schweigende Klassenzimmer (The Silent Revolution)
Germany
By Lars Kraume (The People vs. Fritz Bauer)
With Leonard Scheicher, Tom Gramenz, Lena Klenke, Jonas Dassler, Florian Lukas, Jördis Triebel, Michael Gwisdek, Ronald Zehrfeld, Burghart Klaußner
World premiere