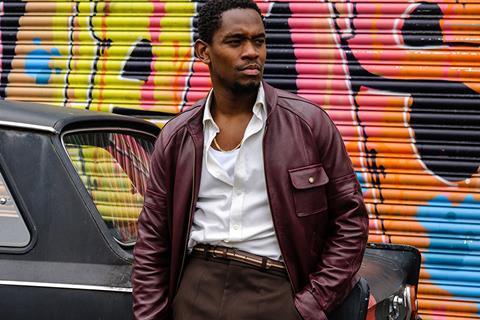 The Berlin Film Festival's Panorama line-up will feature a total of 47 films from 40 countries, with 37 world premieres and 16 directorial debuts.
Scroll down for full line-up
20 films will be screened in the scope of Panorama Dokumente, while 27 fiction features are shown in Panorama Special as well as the main programme.
Wolfgang Fischer's Styx will open Panorama Special on February 16 at Zoo Palast. Nearly dialogue-free, the film tells the story of a female doctor on a sailing holiday gone unexpectedly sour somewhere between Europe and Africa. The main programme will open on the evening before with the previously announced feature River's Edge.
A Czech production opens Panorama Dokumente. Jan Gebert's Až přijde válka (When the War Comes) treats the global trend of a rising political nationalism using the example of the young Slovak paramilitary organisation Slovenski Branci. Meanwhile, Árpád Bogdán's feature film Genezis (Genesis) takes up the series of attacks on Roma in Hungary in 2008/2009, exposing their effects on the victimised families and the community as well as casting light on the failures of the Hungarian judicial system.
The pursuit of those guilty of crimes perpetrated under the dictatorial Franco regime is depicted in documentary The Silence of Others, produced by Pedro Almodóvar. Former Brazilian president Dilma Roussef's impeachment can be witnessed first-hand in O processo (The Trial).
In Generation Wealth, Lauren Greenfield raises awareness for the way in which self-indulgent quests for luxury can lead to a sort of ultra-decadence, while in Lemonade, produced by Cristian Mungiu, the American Dream remains out of reach for those who cannot afford to buy a piece of it. In the French-German production Game Girls, two women attempt to escape life on Skid Row, the USA's Capital City of the Homeless. Shakedown immerses the viewer in the Afro-American queer strip club scene of 1990s Los Angeles, relating its protagonists' search for freedom and self-determination with great immediacy. In the Italian production Land, Iranian director Babak Jalali devotes his attention to members of a Native American family who are defending their cultural identity.
In Al Gami'ya (What Comes Around), the residents of one of Cairo's poorest districts have developed a bank-free financing system for themselves. Two intimate portraits of rural conflict, set in Central China's Henan province and the German state of Saxony-Anhalt respectively, are drawn in Jordan Schiele's The Silk and the Flame and Rosa Hannah Ziegler's Familienleben (Family Life). Yang Mingming's debut film Rou Qing Shi (Girls Always Happy) showcases the verbal duels of an odd mother-daughter duo searching for happiness in art or daydreams of getting rich quick. In La enfermedad del domingo (Sunday's Illness), a mother and her daughter find their way back to one another following years of estrangement. In Jibril, her final work for the Film University Babelsberg KONRAD WOLF, Henrika Kull depicts the isolation and love experienced in the interaction between a single mom and a prison inmate.
The Argentinian production Marilyn and the Brazilian film Tinta Bruta (Hard Paint) both depict the isolation and anger inherent in their young protagonists' search for their place in the world. In the mafia tale La terra dell' abbastanza (Boys Cry), two young men discover an ostensibly simple way out of a sticky situation. A complex web of responsibilities is examined in the two instalments of the miniseries Ondes de choc (Shock Waves), directed by Lionel Baier and Ursula Meier.
Three further films serve as reflections on cinema: Mes provinciales (A Paris Education), which is set in a Parisian millennial student milieu; Je vois rouge (I See Red People), in which Bojina Payanotova confronts her parents with their possible connections to the Bulgarian secret police; and Hotel Jugoslavija, in which director Nicolas Wagnières elevates an abandoned Grand Hotel to the status of contemporary witness to history, acting on his principle of "filming to retain and regain".
Fluid boundaries between reality and fiction are present in four productions. Xiao Mei investigates the enigma surrounding the disappearance of a young woman, while the dark fairy tale Koly padayut pereva (When the Trees Fall) encompasses the frightening and enchanting experiences of three generations of women. In a hybrid form between fiction and documentary film, Trinta Lumes (Thirty Souls) reimagines the Galician backcountry as a mythical place populated by both the living and the dead. Finally, in the deceptively calm flow of Horizonti's (Horizon) images, a man is at risk of losing his footing in life entirely after a separation.
The hard realities reflected in two productions from India and the Democratic Republic of the Congo stand in stark contrast in this context. In Garbage, a young woman endures a nightmare of male violence. Kinshasa Makambo on the other hand provides insight into the brutal everyday existence of Congolese resistance fighters.
In addition to their appearance in Yocho (Foreboding), cinematic dystopias and allegories of reality are featured in Kim Ki-duk's Inkan, gongkan, sikan grigo inkan (Human, Space, Time and Human), in which individuals of widely differing backgrounds assembled on a warship develop a bestial need for patriarchal domination. From Iran comes the film Hojoom (Invasion), which adeptly establishes an oppressive mood with its post-apocalyptic science-fiction world devoid of sunlight.
Partisan takes a look back at Frank Castorf's twenty-five year legacy at Berlin's Volksbühne theatre. The conceptual art of Canadian musician Chilly Gonzales, self-proclaimed president of the Berlin underground, is the subject of Shut Up and Play the Piano. MATANGI / MAYA / M.I.A. portrays the controversial star between the labels attached to her by the music and media industries and her self-image as a Sri Lankan resistance artist. In Idris Elba's directorial debut Yardie, the score by Dickon Hinchcliffe accentuates the journey of a young man from Kingston to London.
Panorama line-up:
Al Gami'ya (What Comes Around) - Lebanon / Egypt / Greece / Qatar / Slovenia
By Reem Saleh
Documentary
World premiere
Až přijde válka (When the War Comes) - Czech Republic / Croatia
By Jan Gebert
Documentary
World premiere
La enfermedad del domingo (Sunday's Illness) - Spain
By Ramón Salazar
With Bárbara Lennie, Susi Sánchez, Greta Fernández, Miguel Ángel Solá, Richard Bohringer
World premiere
Familienleben (Family Life) - Germany
By Rosa Hannah Ziegler
Documentary
World premiere
Game Girls - France / Germany
By Alina Skrzeszewska
Documentary
World premiere
Garbage - India
By Q
With Tanmay Dhanania, Trimala Adhikari, Satarupa Das
World premiere
Generation Wealth - USA
By Lauren Greenfield
Documentary
International premiere
Genezis (Genesis) - Hungary
By Árpád Bogdán
With Anna Marie Cseh, Enikő Anna Illési, Milán Csordás
World premiere
Hojoom (Invasion) - Iran
By Shahram Mokri
With Abed Abest, Elaheh Bakhshi, Babak Karimi, Pedram Sharifi, Mehdi Etemad Saied
International premiere
Horizonti (Horizon) - Georgia / Sweden
By Tinatin Kajrishvili
With George Bochorishvili, Ia Sukhitashvili, Jano Izoria, Soso Gogichaishvili
World premiere
Hotel Jugoslavija - Switzerland
By Nicolas Wagnières
Documentary
European premiere
Inkan, gongkan, sikan grigo inkan (Human, Space, Time and Human) - Republic of Korea
By Kim Ki-duk
With Mina Fujii, Jang Keun-suk, Ahn Sung-ki, Lee Sung-jae, Ryoo Seung-bum, Sung Ki-youn, Joe Odagiri
World premiere
Je vois rouge (I See Red People) - France / Bulgaria
By Bojina Panayotova
Documentary
World premiere
Jibril - Germany
By Henrika Kull
With Susana Abdulmajid, Malik Adan, Doua Rahal, Emna El-Aouni
World premiere
Kinshasa Makambo - Democratic Republic of the Congo / France / Switzerland / Germany / Qatar / Norway
By Dieudo Hamadi
Documentary
World premiere
Koly padayut dereva (When the Trees Fall) - Ukraine / Poland / Macedonia
By Marysia Nikitiuk
With Anastasiia Pustovit, Sofia Halaimova, Maksym Samchyk, Mariia Svizhynska, Alla Samoilenko
World premiere
Land - Italy / France / Netherlands / Mexico
By Babak Jalali
With Rod Rondeaux, Florence Klein, James Coleman, Wilma Pelly
World premiere
Lemonade - Romania / Germany / Canada / Sweden
By Ioana Uricaru
With Mălina Manovici, Steve Bacic, Dylan Scott Smith, Milan Hurduc, Ruxandra Maniu
World premiere
Marilyn - Argentina / Chile
By Martín Rodríguez Redondo
With Walter Rodríguez, Catalina Saavedra, Germán de Silva, Ignacio Giménez, Rodolfo García Werner
World premiere
MATANGI / MAYA / M.I.A. - USA / United Kingdom / Sri Lanka
By Steve Loveridge
With Maya Arulpragasam
Documentary
International premiere
Mes provinciales (A Paris Education) - France
By Jean Paul Civeyrac
With Andranic Manet, Corentin Fila, Gonzague Van Bervesselès, Diane Rouxel, Jenna Thiam, Sophie Verbeeck
World premiere
O processo (The Trial) – Brazil / Germany / Netherlands
By Maria Ramos
Documentary
World premiere
Ondes de choc - Journal de ma tête (Shock Waves - Diary of My Mind) - Switzerland
By Ursula Meier
With Fanny Ardant, Kacey Mottet-Klein, Jean-Philippe Ecoffey, Carlo Brandt, Stéphanie Blanchoud, Jean-Quentin Châtelain
International premiere
Ondes de choc - Prénom: Mathieu (Shock Waves - First Name: Mathieu) – Switzerland
By Lionel Baier
With Maxime Gorbatchevsky, Michel Vuillermoz, Ursina Lardi, Mickael Amman, Adrien Barazzone, Piere-Isaïe Duc, Nastassja Tanner
International premiere
Partisan - Germany
By Lutz Pehnert, Matthias Ehlert, Adama Ulrich
With Frank Castorf, Sophie Rois, Kathrin Angerer, Herbert Fritsch, Henry Hübchen, Alexander Scheer
Documentary
World premiere
Rou qing shi (Girls Always Happy) - People's Republic of China
By Yang Mingming
With Nai An, Yang Mingming, Zhang Xianmin, Li Qinqin, Huang Wei, Yuan Li
World premiere
Shakedown - USA
By Leilah Weinraub
Documentary
World premiere
Shut Up and Play the Piano - Germany / France / United Kingdom
By Philipp Jedicke
With Chilly Gonzales, Peaches , Leslie Feist, Sibylle Berg, Jarvis Cocker
Documentary
World premiere
La terra dell'abbastanza (Boys Cry) - Italy
By Damiano D'Innocenzo, Fabio D'Innocenzo
With Matteo Olivetti, Andrea Carpenzano, Milena Mancini, Max Tortora, Luca Zingaretti
World premiere
The Silence of Others - USA / Spain
By Almudena Carracedo, Robert Bahar
Documentary
World premiere
The Silk and the Flame - USA
By Jordan Schiele
Documentary
World premiere
Styx - Germany / Austria
By Wolfgang Fischer
With Susanne Wolff, Gedion Oduor Wekesa
World premiere
Tinta bruta (Hard Paint) - Brazil
By Marcio Reolon, Filipe Matzembacher
With Shico Menegat, Bruno Fernandes, Guega Peixoto, Sandra Dani, Frederico Vasques
World premiere
Trinta Lumes (Thirty Souls) - Spain
By Diana Toucedo
With Alba Arias, Samuel Vilariño
World premiere
Xiao Mei - Taiwan
By Maren Hwang
With Chen Yi-Wen, Liu Kuan-Ting, Na Dow, Wu Chien-Ho, Yin Shin, Laurence Chiu, Chang Shao-Huai, Samantha Ko, Wu Kang-Jen, Jao Cincin
World premiere
Yardie – United Kingdom
By Idris Elba
With Aml Ameen, Shantol Jackson, Stephen Graham, Fraser James, Sheldon Shepherd, Everaldo Creary
European premiere
Already announced films:
L'Animale – Austria by Katharina Mückstein
Bixa Travesty (Tranny Fag) – Brazil by Claudia Priscilla, Kiko Goifman
Ex Pajé (Ex Shaman) – Brazil by Luiz Bolognesi
Malambo, el hombre bueno (Malambo, the Good Man) – Argentina by Santiago Loza
Obscuro Barroco – France / Greece by Evangelia Kranioti
La omisión (The Omission) – Argentina / Netherlands / Switzerland by Sebastián Schjaer
River's Edge – Japan by Isao Yukisada
Profile – USA / UK / Cyprus by Timur Bekmambetov
That Summer – Sweden / Denmark, USA by Göran Hugo Olsson
Yocho (Foreboding) – Japan by Kiyoshi Kurosawa
Zentralflughafen THF (Central Airport THF) – Germany / France / Brazil by Karim Aïnouz