Three new titles have filled their spots on Screen's Berlin Competition jury Grid, with Wang Quan'an's existential drama Öndög taking an early lead.
Its average score of 2.6 is enough to put it in first place, with four titles on the grid.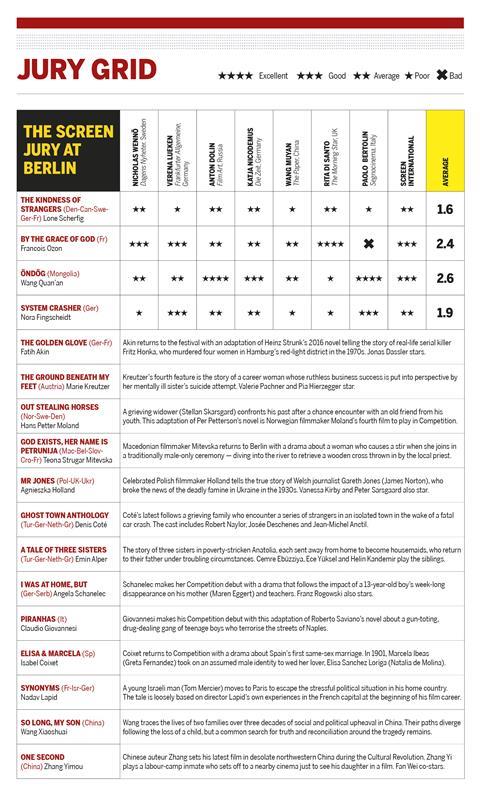 It split opinion from the jury grid critics, with Anton Dolin of Film Art and Paolo Bertolin of Segnocinema both awarding it four stars (excellent), but Rita di Santo of The Morning Star giving it one (poor).
The film centres a young policeman who is sent to investigate the murder of a young woman on the Mongolian steppe. While there, he impregnates the local woman who is his minder.
In second place so far is François Ozon's By The Grace Of God, with a 2.4 average. Most critics gave it scores of two and three, with exceptions at both ends of the scale - four stars from di Santo and zero (bad) from Bertolin.
Ozon's film is loosely inspired by the true stories of sexual abuse victims of a Catholic priest in Lyon. Melvil Poupaud, Denis Ménochet and Swann Arlaud lead the cast.
Finally, Nora Fingscheidt's System Crasher achieved a 1.9 average. Verena Lueken of Frankfurter Allgemeine and Bertolin gave it three stars (good), while Wang Muyan of The Paper, Nicholas Wennö of Dagens Nyheter and di Santo marked it one star.
The film revolves around an aggressive nine-year-old girl, played by Helena Zengel, who, rebelling against every kind of authority, is placed in protective services by her frightened mother.
Fatih Akin's Berlinale return The Golden Glove, Marie Kreutzer's The Ground Beneath My Feet and Out Stealing Horses starring Stellan Skarsgard are the next titles to land.