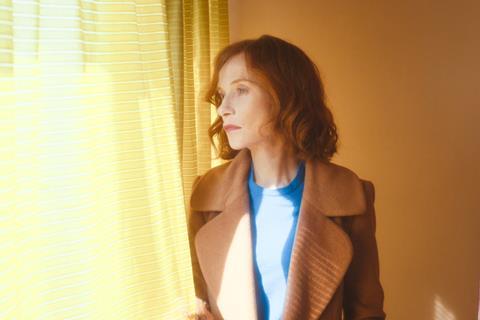 The Berlinale has revealed the first films set to be screened at the 2022 edition of the festival, which is set to run as a physical event from February 10-20.
Among the four Berlinale Special Galas confirmed are Peter Flinth's Against The Ice, starring Nikolaj Coster-Waldau, Joe Cole, Heida Reed and Charles Dance, and Laurent Larivière's About Joan, with Isabelle Huppert, Lars Eidinger and Swann Arlaud. Berlinale Special replaced 'out of competition' in 2020.
The first 13 films selected for the Panorama strand have also been named, with nine world premieres and four feature debuts.
They include documentary Brainwashed: Sex-Camera-Power from Nina Menkes, which is based on her talk talk 'Sex & Power: The Visual Language of Cinema' and will premiere at Sundance.
Further titles include German director Annika Pinske's debut feature Talking About The Weather and Maryna Er Gorbach's Ukrainian war drama Klondike, another Sundance premiere.
Ten features in the Generation strand have also been unveiled. Among the six world premieres are Sanna Lenken's Comedy Queen, about a 13-year-old girl who turns to stand-up following the death of her mother. Lenken's My Skinny Sister won a Crystal Bear after premiering in the Generation strand in 2015.
Finally, the festival has unveiled 10 works for the Forum strand - which aims to highlight challenging and thought-provoking filmmaking that brings together film with visual art, theatre and literature, as well as five features in the Forum Expanded section. The latter are the first titles selected by newly appointed section heads Ala Younis and Ulrich Ziemon.
At the time of writing the festival is planning to run as a physical edition in line with Germany's so-called 2G rule, which means access to screening venues and industry events will be restricted to attendees who are vaccinated or have recovered from Covid-19.
Berlinale 2022 first titles
* - world premiere
Berlinale Special
Galas
Against The Ice (Ice-US-Den) dir. Peter Flinth*
About Joan (Fr-Ger-Ire) dir. Laurent Lariviere*
Gangubai Kathiawadi (India) dir. Sanjay Leela Bhansali*
The Forger (Ger) dir. Maggie Peren*
Heart Of Oak (Fr) dirs. Laurent Charbonnier, Michel Seydoux - documentary
1341 Frames Of Love And War (Isr-UK-US) dir. Ran Tal* - documentary
Nothing Lasts Forever (US) dir. Jason Kohn* - documentary
Panorama
Talking About The Weather (Ger) dir. Annika Pinske*
The Apartment With Two Women (S Kor) dir. Kim Se-in
Brainwashed: Sex-Camera-Power (US) DIR. Nina Menkes
Swing Ride (It-Switz) dir. Chiara Bellosi*
Dreaming Walls (Bel-Fr-US-Neth-Swe) dirs. Amelie van Elmbt, Maya Duverdier*
Klondike (Ukr-Tur) dir. Maryna Er Gorbach
A Love Song (US) dir. Max Walker-Silverman
Myanmar Diaries (Neth-Mya-Nor) dir. The Myanmar Film Collective* - documentary
Into My Name (It) dir. Nicolo Bassetti* - documentary
Nelly & Nadine (Swe) dir. Magnus Gertten* - documentary
We, Students! (CAR-Fr-Con-S Arab) dir. Rafiki Fariala* - documentary
Until Tomorrow (Ir-Fr-Qat) dir. Ali Asgari*
Taurus (US) dir. Tim Sutton*
Generation
Rookies (Fr) dirs. Thierry Demaiziere, Alban Teurlai* - documentary
Beba (US-Mex) dir. Rebeca Huntt – documentary
The Quiet Girl (Ire) dir. Colm Bairead*
Comedy Queen (Swe) dir. Sanna Lenken
Kind Hearts (Bel) dirs. Olivia Rochette, Gerard-Jan Claes* - documentary
Oink (Neth) dir. Mascha Halberstad*
Millie Lies Low (NZ) dir. Michelle Savill
My Father's Truck (US-Viet) dir. Mauricio Osaki*
Sublime (Arg) dir. Mariano Biasin*
Girl Picture (Fin) dir. Alli Haapasalo
Forum
Afterwater (Ger-Sp-S Kor-Ser) dir. Dane Komljen*
Poet (Kaz) dir. Darezhan Omirbayev
The Middle Ages (Arg) dirs. Alejo Moguillansky, Luciana Acuna*
Europe (Ger-Fr) dir. Philip Scheffner*
A Flower In The Mouth (Fr-Ger-S Kor) dir. Eric Baudelaire*
Memoryland (Viet-Ger) dir. Kim Quy Bui
My Two Voices (Can) dir. Lina Rodriguez* - documentary
Nuclear Family (US-Sing) dirs. Erin Wilkerson, Travis Wilkerson – documentary
Super Natural (Por) dir. Jorge Jacome*
The United States of America (US) dir. James Benning*
Forum Expanded
Dragon Tooth (Braz) dir. Rafael Castanheira Parrode*
Home When You Return (US) dir. Carl Elsaesser
Jail Bird in a Peacock Chair (Ger-US) dir. James Gregory Atkinson
Sol in the Dark (Fr) dir. Mawena Yehouessi*
vs (Austria) dir. Lydia Nash*
Installations
All of Your Stars are But Dust on My Shoes (Leb) by Haig Aivazian
Black Beauty: For a Shamanic Cinema (UK-Bel-Sp) by Grace Ndiritu
Those Who Do Not Drown (India-US-Jap-Swe) by Naeem Mohaiemen
Medicine and Magic (Can) by Thirza Cuthand
Under the White Mask: The Film That Haesaerts Could Have Made (Bel) by Matthias De Groof
The Path is Made by Walking (Braz) by Paula Gaitain
The Song of the Shirt (Ger) by Kerstin Schroedinger*
Voices and Shells (Ger) by Maya Schweizer
The Wake (Hai-Fr-UK) by The Living and the Dead Ensemble
The Zama Zama Project (US-S Afr-Can) by Rosalind Morris*