The Berlin Film Festival (Feb 15-25) has unveiled the seven titles set to be screened in this year's Berlinale Series programme.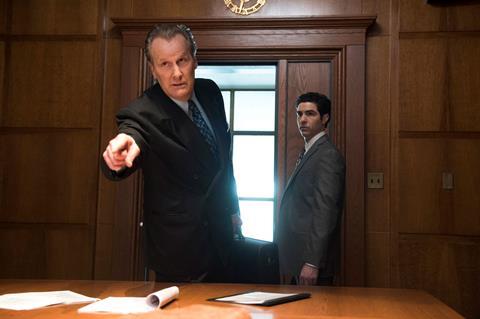 Opening the festival's TV strand is Australian series Picnic At Hanging Rock, FremantleMedia's Natalie Dormer-starring TV adaptation of Joan Lindsay's 1967 novel, which previously spawned Peter Weir's Bafta-winning 1975 feature.
The series tells the story of a strict headmistress at a boarding school whose dark past catches up with her after three pupils mysteriously disappear during a school outing.
Also in the selection is Legendary Television and broadcaster Hulu's The Looming Tower, which is based on Lawrence Wright's Pulitzer prize-winning book of the same name. Chronicling the lead-up to the 9/11 terrorist attacks, the series stars Jeff Daniels as counter terrorism expert John O'Neill and is being exec produced by Alex Gibney.
Further series in the selection come from Germany, Norway, Denmark, and Israel.
Berlinale Series 2018 selection:
Bad Banks (Germany / Luxembourg)
Director: Christian Schwochow (Paula)
Head writer: Oliver Kienle (Four Hands) based on a concept by Lisa Blumenberg
With Paula Beer, Barry Atsma, Désirée Nosbusch, Albrecht Schuch, Mai Duong Kieu, Marc Limpach, Tobias Moretti
Broadcaster: ZDF, ARTE
World premiere
Heimebane (Home Ground) (Norway)
Creator: Johan Fasting
Director: Arild Andresen (The Orheim Company, The Liverpool Goalie)
With Ane Dahl Torp, John Carew
Broadcaster: NRK
World premiere
Liberty (Denmark)
Creator: Asger Leth (Ghosts of Cité Soleil, Man on a Ledge)
Director: Mikael Marcimain (Call Girl, Gentlemen & Gangsters)
With Connie Nielsen, Carsten Bjørnlund, Sofie Gråbøl, Magnus Krepper, Charlie Karumi, Anton Hjejle
Broadcaster: DR
World premiere
The Looming Tower (USA)
Creators: Dan Futterman (Capote, Foxcatcher), Alex Gibney (Taxi to the Dark Side, Zero Days), Lawrence Wright (Going Clear: Scientology & the Prison of Belief)
Director: Craig Zisk, Michael Slovis
Written by Dan Futterman, based on the book by Lawrence Wright
With Jeff Daniels, Tahar Rahim, Peter Sarsgaard, Wrenn Schmidt, Bill Camp, Michael Stuhlbarg
Broadcaster: Amazon, Hulu (USA)
International premiere
Picnic at Hanging Rock (Australia)
Director: Larysa Kondracki (The Whistleblower, Shut Eye), episodes 1-3
Written by Beatrix Christian, Alice Addison
With Natalie Dormer, Lily Sullivan, Madeleine Madden, Samara Weaving, Lola Bessis, Yael Stone, Inez Currõ, Harrison Gilbertson, Ruby Rees
Broadcaster: Foxtel
International Premiere
Sleeping Bears (Israel)
Creator and director: Keren Margalit (The A Word, Israel, In Treatment, Israel)
With Noa Koler, Yossi Marshek, Alma Zak, Yaakov Zada Daniel, Doron Tavory
Broadcaster: Keshet Broadcasting
International premiere
The Terror (USA)
Showrunners: David Kajganich (True Story, A Bigger Splash) and Soo Hugh (The Whispers, The Killing)
Director: Edward Berger (Jack, Deutschland 83), episodes 1-3
With Jared Harris, Tobias Menzies, Ciarán Hinds, Paul Ready, Adam Nagaitis, Nive Nielsen, Ian Hart
Broadcaster: AMC, AMC Networks International, Amazon
World premiere