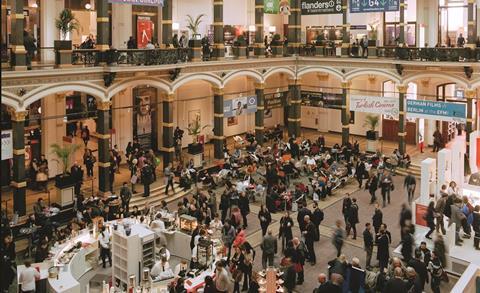 The Berlinale's European Film Market (EFM) has detailed a number of "infrastructural improvements" to its 2019 edition after an alliance of industry trade bodies and institutions wrote to EFM director Matthijs Wouter Knol to express their concerns about the impact of the EFM's new admissions policy.
The changed policy, which was announced on November 1, will restrict access to EFM venues Martin Gropius Bau (MGB) and Marriott Hotel to market badge holders only for the first weekend (Feb 8-11). The market runs February 7-15 in 2019.
Previously, festival badge holders could also freely enter the EFM venues. The change is due to overcrowding concerns following a steep rise in attendees in recent years.
The letter to Knol was led by sales agent network Europa International and including inide distribution network Europa Distribution, France's ADEF, and Film Export UK.
However, many in the film industry - including sales companies with stands in the Martin Gropius Bau and Marriott Hotel - were concerned about the implications of these new regulations for their own business at the EFM since film professionals such as producers, film directors and distributors with only the basic badge category of festival accreditation will be unable to access the market venues over the crucial first weekend from Friday to Monday.
In his reply to Europa International, seen by Screen, Knol explained some changes are being introduced to both ease congestion and help market participants:
The Gropius Mirror Restaurant – located opposite the main EFM venue – will now be open to festival accreditation badge holders as well as Market Badge holders from 9am to 11am each day for meetings.
Security and badge checks for those wanting to enter the MGB will now be located in a dedicated area outside the building.
The EFM is considering including 'festival buyers' on the annual list of selected invited buyers/guests with prioritised access to the EFM over the first weekend.
As in previous years, EFM's stand-holders will able to obtain visitor passes to enable individual visitors to access the market venue for specific appointments, with a dedicated front desk for visitors located outside of the MGB.
Furthermore, Knol wrote that the EFM will continue to ensure one-off access to special, high-ranking guests if their visits are announced to EFM in advance. (Last year, the Serbian Minister of Culture went to the Film Center Serbia stand in MGB for a photo op with filmmakers, while drinks were served, and press and photographers invited.)
"For future years, EFM is considering relocating successful market platforms like DocSalon and EFM Producers Hub outside of the Gropius Bau," Knol added. "We are planning talks with all partners involved in the months after the upcoming edition of EFM to find the right new set-up for these market platforms close to existing EFM venues."
Changes originally planned for 2020
In his letter, Knol explained the new admissions policy had become necessary after the management of the Berlinale's umbrella administration KBB (Kulturveranstaltungen des Bundes in Berlin) and the Martin Gropius Bau decided to introduce a digital tracking system of all visitors entering the museum building from 2019.
"It requires us to take measures with immediate effect and doesn't allow us – as planned originally – to inform all market participants straight after the upcoming EFM about changes in 2020," he noted.
"An earlier announcement would have made it much easier to discuss, adapt and inform everybody involved more extensively and appropriately," he said. He pointed out EFM staff had been talking in recent weeks "to everybody who has contacted us with questions over the phone or in meetings, taking worries and suggestions expressed into account when it comes to finding the best solutions, and making sure the changes will affect the business done at EFM the least way possible."
Indeed, the EFM had hired additional staff to organise the implementation of the access changes and also extended the Early Bird rate of the Market Badge from November 30 to December 9 to give market participants more time to decide on which accreditation they should apply for.
As of today (December 10), the price of the market badge rises to €300 (from the Early Bird rate of €250), while the festival accreditation category remains at €125 until January 6, 2019. An additional late fee of €50 then applies for any accreditation requests made after this date.
Knol ended the letter by admitting the new admissions policy would "lead to an edition of EFM that will be a transition year."
"We have planned time and resources to evaluate after EFM, to ask for experiences from you and other participants to help us adapt and improve the access regulations accordingly for EFM 2020. We plan to share ideas with you starting in May 2019," he concluded.