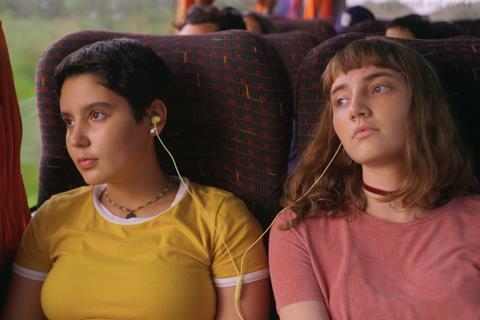 Berlin-based sales company Pluto Film Distribution Network has acquired worldwide sales rights to Panamanian-Costa Rican director Kattia G. Zúñiga's feature directorial debut Sister & Sister (Las Hijas), which gets its world premiere at SXSW next month.
Pluto Film will launch sales at EFM later this month on the story, which stars newcomers Ariana Chaves Gavilán and Cala Rossel Campos as sisters who travel from Costa Rica to Panama during the summer holidays in search of their absent father.
As the girls deal with tensions that arise between them, they find space to explore their desires, new friendships, lovers, and skateboarding – and discover the joy of simply hanging out.
Alejo Crisóstomo, Isabella Gálvez Peñafiel, Zúñiga and Said Isaac served as producers on the co-production between Panama's Mente Pública and Chile's Ceibita Films.
Zúñiga wrote the screenplay. She previously starred in Nina And Laura by Alejo Crisóstomo and Paz Fábrega's Viaje, among others, and has written and directed the short films It's Cecilia (2012) and Things That Don't Break (2017).
Crisóstomo of Ceibita Films negotiated the Sister & Sister deal with Benjamin Cölle, managing director of Pluto Film Distribution Network.
"When Alejo and Kattia presented Sister & Sister to us during Ventana Sur last year, we were immediately captivated by the film" said Cölle. "Director Kattia G. Zúñiga recounts the vulnerable relationship of two adolescent sisters in such an intimate way that we immediately felt connected to the story. And with its colorful portrayal of a diverse teenage community in Panama City, the film also convinced us visually."
"From the beginning Pluto Film has shown a wonderful connection with our film, with its themes and intent," said Crisóstomo. "The energy of Benjamin and his team is what we were looking for in a sales agent and we are convinced that they are the ideal conduit to take the film to different audiences and territories. We have felt a deep accompaniment in the production of promotional materials for the film and great generosity in sharing their knowledge about audience design."
Pluto Film's recent Latin American titles include A Vanishing Fog by Augusto Sandino, Jesús López by Maximiliano Schonfeld, Liborio by Nino Martínez Sosa, and One In A Thousand by Clarisa Navas.