Agreements signed with Metrodome in the UK among others.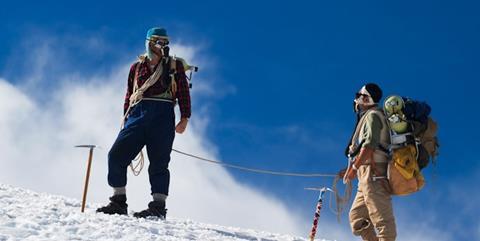 Distribution deals for 3D Everest documentary Beyond the Edge have been secured by Altitude Film Sales for key territories including the UK (Metrodome), German-speaking Europe (Polyband), Japan (Kadokawa) and the Middle East (Gulf).
The film, which had its world premiere for at the Toronto International Film Festival, grossed NZ$320,170 ($270,000) on its opening weekend at the box office across 76 screens.
It generated a screen average of NZ$4,200 ($3,500) toppling the previous documentary record holder for the territory, The Topp Twins: Untouchable Girls - also from Beyond the Edge filmmaker Leanne Pooley.
The film's total to date in New Zealand is NZ$505,601 ($425,000).
The docudrama, made in New Zealand this year, charts the story of Sir Edmund Hillary's ascent of Mt. Everest in 1953, using a combination of archive footage and newly-shot 3D recreation.
Mike Runagall, managing director of Altitude Film Sales, said he "will be negotiating further deals at the American Film Market" this week.
The film is produced by Matthew Metcalfe, and is written and directed by Leanne Pooley. Other key collaborators include Oscar-winning production designer Grant Major and cinematographer Richard Bluck.
Beyond the Edge was financed by the New Zealand Film Commission in association with NZ On Air's Platinum Fund, TVNZ, Digifilm and Rialto Distribution.