Experts were talking at panel hosted in the UK film centre at Cannes.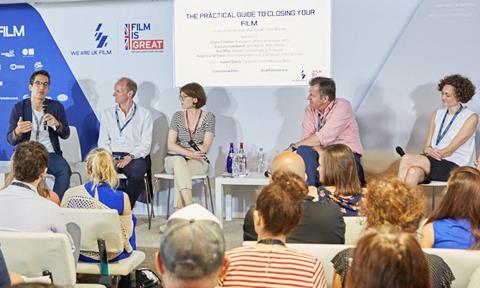 Isabel Davis, head of international, BFI, hosted a panel on 'The Practical Guide to Closing Your Film' at The UK Film Centre in Cannes on Sunday May 22.
Clare Coulter, business affairs manager, BFI; David Grumbach, producer, BAC films; Kai May, Unverzagt von Have and Peter La Terriere, managing director, European Film Bonds took part in the discussion.
The panellists provided tips for moving projects to a multi-party co-production.
Peter La Terriere suggested setting a rate with banks as soon as production begins.
"You need to know when your money is coming in, and how much money is coming in," said La Terriere.
He added that developing relationships with banks that understood film financing was key, as they could help you with cash-flow, particularly in pre-production when money can be short. He suggested checking with film institutes who they had strong relationships with.
David Grumbach said managing lawyers was important, as closing could otherwise take an extensive amount of time.
"As a producer, it is your responsibility to get involved. The lawyers will want to negotiate the smallest of points. We have found it is easier and faster to contact distributors, or other negotiating parties, directly."
Coulter agreed, adding that the BFI is there to help producers work out how to close film financing.
"We fund small and large projects. Sometimes if it's a smaller film, we will offer funding without a bond. But regardless, it's important to negotiate and figure out details such as who will recoup their money first. We can help, lawyers can help - these types of details need to be thought out."
Read more:
Watch videos of the We Are UK Film Cannes events here