Support follows change of distribution strategy for the Sundance award winner.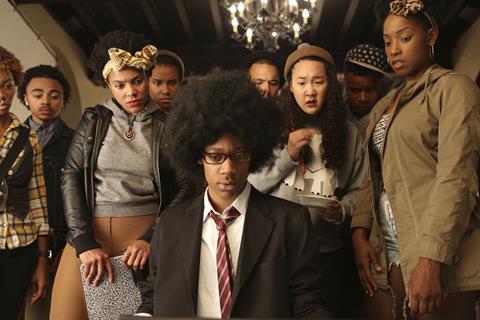 The BFI has approved a Lottery award through the BFI Distribution Fund to support the UK theatrical release of Dear White People, which will be released in cinemas today (July 10).
The award has been made as a result of a change in the distribution strategy for the film, which has now enabled BFI Lottery funding to be directed towards widening the theatrical potential of Dear White People and opening up opportunities to target a wider cinema-going audience.
The New Black Film Collective (TNBFC), which is releasing the feature in UK cinemas, has sought advice from the BFI and others and worked with its partners to push back the film's DVD and SVOD windows to accommodate a full cinema release.
This new strategy is working to help the film expand into more cinemas. As a result of unlocking further sites across the UK, the BFI is able to support the distribution strategy to take the film into multiplex sites and target specific audience groups as identified by the TNBFC.
BFI director of Lottery Film Fund, Ben Roberts said: "Dear White People is a brilliantly funny and creative film and it's great that we're now able to support TNBFC in bringing it to UK cinemas.
"It is pleasing to see that the new distribution approach is helping to widen its theatrical potential and enable Lottery money to make a real difference to the campaign."
TNBFC director Priscilla Igwe said: "I am delighted that through the intervention of Ben Roberts… that we learned that the release window of Dear White People on DVD and Video on Demand could be pushed back to allow for the multiplexes and independents to programme the film.
"However, it is vital that people come out to watch it over the all important opening weekend so that we have the opportunity to convince cinemas to keep it on their screens for longer and to continue to back quality Black films for UK audiences."
A list of cinemas screening the film can be found here: http://www.dearwhitepeoplemovie.co.uk/Screenings.php
Dear White People, directed by Justin Simien, won a special jury prize at Sundance 2014 and is a comedy about the tension between white and black students at an elite university.
The low-budget indie – partly backed through crowd-funding platform Indiegogo - took $4.5m at the US box office last October and screened at both the the 2014 BFI London Film Festival and the 2015 BFI Flare film festival.