LGBT festival will feature more than 50 features in its 30th anniversary year; Catherine Corsini's Summertime [pictured] revealed as closing night film.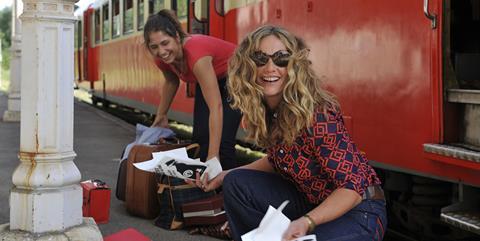 BFI Flare: London LGBT Film Festival (March 16-27) has revealed the line-up for its 30th anniversary edition.
The festival will feature more than 50 features and 100 shorts this year, as well as a series of events and an expanded industry programme.
The film programme will be split into three programmes - Hearts, Bodies and Minds - which will highlight three distinct themes: LGBT content in British film and new British talent, transgender representation, and Queer Science and new technology.
The first of those, LGBT content in British film and new British talent, will feature titles including Tomer and Barak Heymann's documentary Who's Gonna Love Me Now?, Andrew Stegall's Departure, and Fenton Bailey and Randy Barbato's Mapplethorpe: Look At The Pictures.
The second strand, Transgender representation on screen, will feature an event with Silas Howard, the first transgender director on Amazon's Emmy and Golden Globe winning television series Transparent.
Expanded industry
That talk will be part of the expanded industry programme, which will also include talks with Tom Rob Smith, the screenwriter of the BBC's London Spy, Donna Deitch, the director of lesbian drama Desert Hearts, and the aforementioned Fenton Bailey.
There will also be a series of industry events exploring the realities of LGBT film production, distribution and exhibition,
Dubbed Industry Dialogues, sessions will include The Road to First Feature, Meet the Programmers, and Creating Online Content.
Other events on offer will include labs, workshops and roundtables, all of which will explore the practice of making LGBT creative media.
The third strand, queer science and new technology, will look back over the 30 years since the festival's inception. It will also include an exhibition at BFI Southbank that will explore the future of LGBT cinema.
Corsini to close
As previously reported, this year's festival will open with the world premiere of Russell Tovey-starring The Pass.
This year's closing gala will be Catherine Corsini's Summertime, starring Cécile De France in the story of two women who fall in love against the backdrop of feminist street protests in 1970s Paris.
The festival will also feature the European premiere of Holding The Man, Neil Armfield's romantic drama starring Ryan Corr and Craig Stott alongside the likes of guy Pearce and Geoffrey Rush.