Thousands of unseen films digitised and made available online including world's earliest home movies; new film commissioned from Penny Woolcock.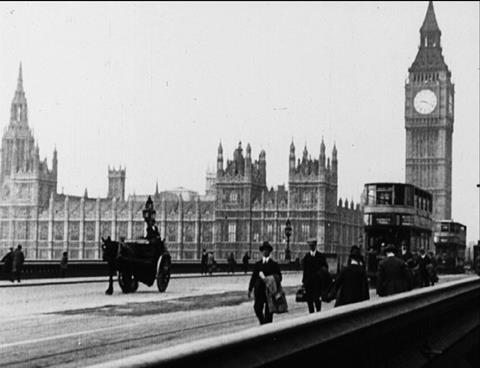 The BFI (British Film Institute) has today launched Britain on Film, an archive-based initiative through which thousands of unseen films have been digitised and will be made available for free to the public on the BFI Player platform.
By 2017, the BFI aims to have digitised 10,000 film and TV titles from 1895 to the present day, backed by National Lottery funding and the support of the Esmée Fairbairn Foundation.
These include the world's earliest home movies from 1902, The Passmore Family Collection - 10 films of the family on holiday in Bognor Regis and The Isle of Wight and at home in London.
Britain On Film also includes travelogues, tourism films, public information docs, newsreels, a few feature films and a host of other material
What unites all the footage - taken from the BFI National Archive and more than a dozen other archives across the country - is that most of it has remained largely unseen since it was first filmed.
Film Map
A "film map" of the country has also been created to help viewers discover films relating to their own region.
BFI creative director Heather Stewart told ScreenDaily: "As we know, people love looking at this material.
"It is real window into the people and places of Britain. We are running as big campaign for people to become involved in a national conversation about it."
The public can get involved with the project via Twitter and Facebook, with a campaign launching today that sees 60 films from all over the UK released over 60 days, and special screenings, events and partnerships across the UK.
The BFI's curators and archivists are looking to the British public to identify people and places in the films, which detail every aspect of everyday life in the UK over the last 120 years.
New Woolcock film
Director Penny Woolcock has made a new archive-based documentary, Out Of The Rubble, based on the material.
The film explores issues of housing, poverty and immigration, and will be released later this summer.
Meanwhile, the BFI has made arrangements with organisations from Heathrow Airport to Caffe Nero to make the footage available to the public.
"We want people, no matter where you are, to be able to see the material," said Stewart. "You don't have to go to it or already know about it. You can browse the map and find it."
BFI head curator Robin Baker acknowledged that the BFI is looking to the public for help in identifying people, places and events shown in the film.
"What we are really encouraging is debate and people sharing information on social media about those films," he said.
Rare titles
Among the features is the rarely seen A Window In London (1940), directed by Herbert Mason and starring Michael Redgrave as a crane operator.
"The two key sequences take place on Waterloo Bridge at the very time Waterloo Bridge was being built," said Baker, pointing out that the BFI's own home is beneath the structure on London's Southbank.
"Having it as a bridge over our own cinema and seeing it at that moment of appearing in a feature film is pretty fantastic. It is a darned good film as well."
Baker also noted that many of the films celebrate ethnic diversity. The collection includes documentaries titled Muslims In Britain, made in the post-war years.
"They were made to be shown in the Arab world and also further afield, basically trying to encourage people from the Arab world to come and live in Britain," said Baker.
Clearing rights has been a Herculean task and Baker added: "The most time consuming part for us has been clearing rights and a lot of rights holders have given permission to make the films available for free, which is fantastic."
Around 2,500 films have already been digitised with many more to follow.