La La Land, The Birth Of A Nation, Arrival and Snowden announced as headline galas; new venue to be built on London's Embankment; official competition will include Elle, Moonlight, Una and Neruda.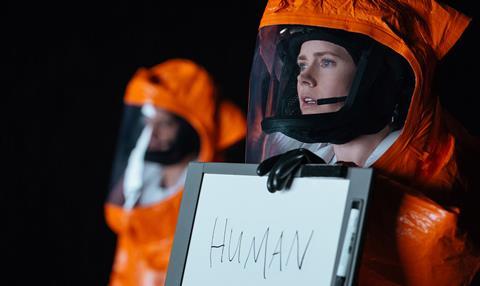 The BFI London Film Festival (October 5-16) has unveiled the full line-up of 245 feature films for its 60th festival. This year's festival will screen 193 fiction and 52 documentary features, including 18 world premieres and eight international premieres.
This year's headline galas are: Denis Villeneuve's Arrival (Royal Bank of Canada gala); Damien Chazelle's Venice opener La La Land; JA Bayona's A Monster Calls; Tom Ford's Nocturnal Animals; Oliver Stone's Snowden; Lone Scherfig's Their Finest (The Mayor of London gala); Nate Parker's The Birth Of A Nation; and Kenneth Lonergan's Manchester By The Sea.
They join four previously announced headline galas: Amma Asante's A United Kingdom, which opens the festival; Ben Wheatley's Free Fire which is closing-night film; Garth Davis's Lion (the American Express gala); and Mira Nair's Queen Of Katwe (Virgin Atlantic gala).
The venue challenge faced last year, augmented by the closure of the Odeon West End which played host to many LFF galas and represented a significant loss for the festival's screening capacity, will be met this year with the construction of a new, temporary cinema, to be situated in Victoria Embankment Gardens.
The 780-seat pop-up venue, which is being backed by various partners including the city of London, will be dubbed Embankment Garden Cinema and, says Stewart, "will be seriously well kitted – audience comfort and technical presentation will be at a very high level." The venue, which will feature Dolby 7.1 surround sound and 4K digital projection, will host strand galas, official competition titles and repeat screenings. Bollywood musical Mirzya will open the new cinema.
"It's a fantastic site that connects Leicester Square and BFI Southbank. In terms of our core festival precinct, it's a fabulous position and it will give us the venue of scale that we are looking for."
It will allow the LFF to expand the number of headline galas, up from seven last year (opening, closing, and five sponsored galas) to one every night of this year's festival - 12 in total - all to be held at the Odeon Leicester Square.
The festival programme will again be organised into categories clustered around the themes of Cult, Dare, Debate, Family, Journey, Laugh, Love, Sonic and Thrill.
The strands are each headlined with a gala:
Love: Mirzya, dir. Rakeysh Omprakash Mehra
Thrill: Bleed For This, dir. Ben Younger
Laugh: Toni Erdmann, dir. Maren Ade
Debate: Nocturama, dir. Bertrand Bonello
Cult: The Autopsy Of Jane Doe, dir. Andre Ovredal
Family: Trolls, dirs. Mike Mitchell, Walt Dohrn
Dare: The Handmaiden, dir. Park Chan-wook
Journey: Paterson, dir. Jim Jarmusch
Sonic: Chi-Raq, dir. Spike Lee
The festival's Special Presentations are Andrea Arnold's American Honey, Ava DuVernay's documentary The 13th, which explores a century of race relations in the US, Fiona Tan's Ascent as the Experimenta presentation and Xavier Dolan's It's Only The End Of The World as the inaugural Flare presentation.
Twelve films will again compete in the festival's Official Competition for the Best Film Award, while the winners of the First Feature and Documentary Competitions will respectively receive the Sutherland and Grierson Awards.
The Official Competition line-up:
Brimstone, dir. Martin Koolhoven
Certain Women, dir. Kelly Reichardt
Clash, dir. Mohammad Diab
Elle, dir. Paul Verhoeven
Frantz, dir. Francois Ozon
Goldstone, dir. Ivan Sen
Layla M, dir. Mijke de Jong
Moonlight, dir. Barry Jenkins
Neruda, dir. Pablo Larrain
A Quiet Passion, dir. Terence Davies
Una, dir. Benedict Andrews
Your Name, dir. Makoto Shinkai
First feature competition:
Chameleon, dir. Jorge Riquelme Serrano
A Date For Mad Mary, dir. Darren Thornton
Divines, dir. Houda Benyamina
The Giant, dir. Johannes Nyholm
Hedi, dir. Mohamed Ben Attia
Lady Macbeth, dir. William Oldroyd
The Levelling, dir. Hope Dickson Leach
My Life As A Courgette, dir. Claude Barras
Playground, dir. Bartosz M Kowalski
Porto, dir. Gabe Klinger
Raw, dir. Julia Ducournau
What's In The Darkness, dir. Wang Yichun
Wulu, dir. Daouda Coulibaly
Documentary competition titles:
All This Panic, dir. Jenny Gage
Chasing Asylum, dir. Eva Orner
David Lynch: The Art Life, dirs. Jon Nguyen, Olivia Neergaard-Holm
The Graduation, dir. Claire Simon
An Insignificant Man, dirs. Khushboo Ranka, Vinay Shukla
Lovetrue, dir. Alma Har'el
On Call, dir. Alice Diop
Safari, dir. Ulrich Seidl
The Space In Between - Marina Abramovic And Brazil, dir. Marco Del Fiol
Starless Dreams, dir. Mehrdad Oskouei
Tower, dir. Keith Maitland
The War Show, dirs. Andreas Dalsgaard, Obaidah Zytoon
"We are in a robust position as a festival," said Clare Stewart. "We have been on a trajectory over the last four or five years of positioning the festival internationally as well as with local audiences, and changing the texture of how that plays out. We have been taking hold of that position we have in the calendar in relation to the awards season window and certainly our headline galas are playing more and more strongly into that."
"The importance of London to our US Academy and BAFTA-voting audience has really changed the way our gala line-up is viewed internationally. But we have not strayed in pushing that focus from our interest in broadening and reaching wider audiences."
This year's bespoke venue is seen as a pilot project which the festival hopes to keep for future years. Other highlights include celebrating 40 years of revolutionary VFX powerhouse Industrial Light & Magic as part of LFF Connects, with Dennis Muren coming to London to hold a talk.
Following last year's gender-focused symposium in partnership with the Geena Davis Institute, the festival will hold its previously announced Black Star symposium – tied into the BFI's Black Star season – on the first day, exploring issues around under-representation of black actors on screen, with line-up and guests yet to be confirmed.
Several high-profile films from black directors will play in the festival, including Asante's opener, du Vernay's documentary and Jenkins' Moonlight. Despite the controversy surrounding writer-director-star Parker, Stewart never considered pulling The Birth Of A Nation as one of her headline galas. "It's one of the significant films of the year," said Stewart. "It's not for me to make any further comment."
Key filmmaking talent due to attend the Festival's gala and special presentation screenings include: Amma Asante, David Oyelowo, Rosamund Pike, Laura Carmichael, Jack Davenport, Ben Wheatley, Sharlto Copley, Cillian Murphy, Jack Reynor, Dev Patel, Nicole Kidman, Nate Parker, Damien Chazelle, Kenneth Lonergan, J.A. Bayona, Lewis MacDougall, Tom Ford, Mira Nair, Lupita Nyong'o, Oliver Stone, Joely Richardson, Lone Scherfig, Gemma Arterton, Sam Claflin, Rakeysh Omprakash Mehra, Harshvardhan Kapoor, Saiyami Kher, Park Chan-wook, Bertrand Bonello, Maren Ade, Sandra Hüller, Ben Younger, Mike Mitchell, Walt Dohrn, Andrea Arnold, Fiona Tan and Xavier Dolan.