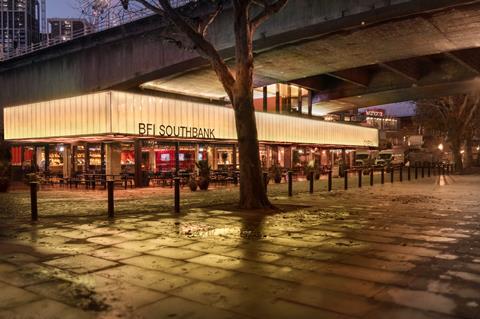 The British Film Institute is partnering with University College London (UCL) on a £1m research project into the links between racism, racial inequality, diversity and policy in the UK film industry, which will focus on the findings and impact of the BFI's Diversity Standards.
'The Colour of Diversity: A Longitudinal Analysis of BFI Diversity Standards Data and Racial Inequality in the UK Film Industry' will explore the experiences of people of colour at every stage of the industry, including actors, filmmakers, funders and technicians, as well as those of Black and minority ethnic film audiences.
The three-year study is funded in full by the Arts and Humanities Research Council, a non-departmental public body.
It will be led by principal investigator Clive Nwonka, who is incoming lecturer in film culture and society at UCL's Institute of Advanced Studies; and co-investigator professor Sarita Malik, professor of media, culture and communications in the department of social and political sciences at Brunel University London.
The study will build on Nwonka's previous research in this field, including his 2020 report 'Race and Ethnicity in the UK Film Industry: An Analysis of the BFI Diversity Standards'.
The BFI will provide access to data gathered through its Diversity Standards to further understandings of the construction and impact of agendas towards racial equality within policy. The research team will also analyse films that have adhered to the Diversity Standards since its launch in 2016, to determine the films' relation to the lived realities of Black and minority ethnic experiences.
The findings of the research study will in turn be used to evaluate the Diversity Standards, and BFI policy on racial equality and representation.
"Despite nearly three decades of policy initiatives racial inequalities in the screen industry in terms of workforce demographic and on-screen representations of Black and ethnic minority identities remain a significant social problem," said Nwonka. "What has been missing is a close-up analysis, over time, of how diversity policy that has attempted to respond to racial inequalities is constructed and implemented, and its success, failure and impact."
"Our project aims to increase academic and creative sector knowledge and support industry stakeholders in implementing effective, informed policy strategies with real effects in tackling structural racial inequalities," said Malik.
Jen Smith, head of inclusion at the BFI, said that "dismantling racial inequalities in our sector… needs to be demonstrable in its actions relating to workforce, practices, policies and its creative outputs."
The Diversity Standards were launched in 2016. To achieve them, projects must demonstrate commitment to inclusion in two of the following four areas: on-screen representation, themes and narratives; creative leadership and project team; industry access and opportunities; and audience development.