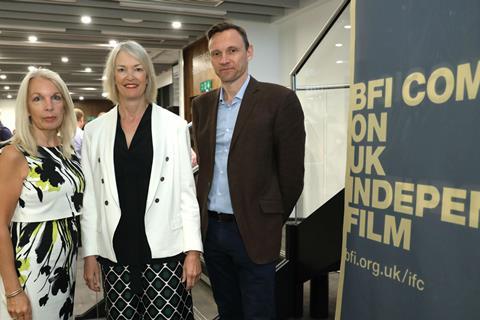 Significant new measures to boost the UK film industry have been announced in the long-awaited report from the BFI's Commission on UK Independent Film in London today.
These include:
• A new £5m-plus commercial development fund over five years to be backed by investor partners that look set to include Amazon Studios alongside other SVOD platforms, Pay TV and telecoms companies;
• A new EIS fund, affiliated to the BFI but separate from it, to channel equity into UK independent film companies;
• Partnerships to engage and grow younger audiences;
• A detailed independent study in cooperation with key stakeholders across the value chain to look at ways to maintain the value of rights.
There is understood to be a real urgency by the commission, which was chaired by Zygi Kamasa, CEO of Lionsgate UK and Europe, to put the measures into place.
"Part of the tone Zygi set right from the beginning is that he wanted the report to be practical and not based on too much airy-fairy policy talk," said BFI chief executive Amanda Nevill.
Nevill revealed the commission was "quite a long way down the line" in its plans for launching a new EIS scheme for company investment across a portfolio of companies.
"We've talked to a lot of fund managers and we've talked to a few banks" she said. "We want to find out how we could encourage a new wave of investors into British independent film. Part of making this new product stand out in the market places, we discovered both from the banks and fund managers, was having the BFI or a BFI package attached."
"We will be out of the blocks with this definitely by late autumn," Nevill said of the mooted new EIS scheme.
Private sector support
Additionally, the proposed commercial development fund already has the support of several private companies, according to Ben Roberts, director of the BFI Film Fund.
"[Amazon Studios] have absolutely signalled they want to be in [on the new development fund]," said Roberts of the US streaming giant whose head of worldwide licensing Chris Bird was a member of the commission.
"We've done some modelling of what that fund might look like in terms of how it could generate a return over a slate portfolio. On that basis, we think it's an appealing fund to private financiers," Roberts explained. "We are going to carry on running a group that spins off from the commission. We will look for someone to manage the fund and then go out and raise."
It is hoped further so-called FAANG members, Facebook, Apple, Netflix and Google, will also get behind the scheme and support independent UK content.
Younger audiences
To help younger audiences to engage with independent UK movies in cinemas and online, the commission is encouraging the BFI Film Fund to explore potential interventions to stimulate more genre filmmaking in the UK. It is also setting up two pilot projects, one delivered in partnership with a major UK broadcaster, and the other by the British Independent Film Awards (BIFA).
Alongside its four key proposals, the commission has also made a number of recommendations for consideration by the BFI and the Government. These include "encouraging Government to explore whether the current film tax relief could be maximised by stimulating the production of internationally successful films".
This recommendation suggests the commission has considered Pact's proposal to "uplift the film tax relief" for UK producers working in the £2m to £10m range. In its own report last year, Pact had called for called for the tax credit to be hiked up to 40% for UK films. However, no precise figures are mentioned in the report.
Another key recommendation of the commission is to secure the UK's continued participation in the successor programme to Creative Europe after Brexit, in return for appropriate funding, to ensure the UK continues to access the substantial benefits membership of the programme brings.
The commission also recommends the "BFI works with Government nationally and locally to consider how additional financial incentives could boost production in the nations and regions" and the BFI "seeks funding for permanent representatives to be based in key international territories, particularly where co-production treaties are now in place (notably China) to enhance the UK's opportunities to build long-lasting and fruitful new partnerships post-Brexit".
Brexit impact
The report, convened by the BFI to deliver on its commitment in BFI2022 to undertake a deeper investigation into the health of UK independent feature films, has also called for yet another look, in the context of Brexit, at the potential upside in the UK rejoining Eurimages, the Council of Europe's fund that promotes independent filmmaking by providing financial support to feature-length films, animation and documentary films.
A further key recommendation is for UK film tax relief to be amended so UK co-producers can claim 100% of qualifying UK spend (up to a maximum of 80% of the total budget), rather than the current maximum of 80%. This is intended to arrest the decline in co-productions.
"It seems like one of the simplest and potentially most impactful recommendations in the report. It's where we got a practical steer from the producers and some of the lawyers in the room," Roberts observed.
International support
The report has also called for a new digital marketing campaign to support international sales and distribution of UK films.
"[Independent British films] remains one of our strongest divisions within Lionsgate UK," said Kamasa of his willingness to chair the commission whose members include senior producers, exhibitors, sales agents and lawyers.
Lionsgate UK recently picked up Armando Ianucci's The Personal History Of David Copperfield and Coky Giedroyc's How To Build A Girl.
"Everyone saw [UK film] as enormously valuable to their businesses and everybody wanted to make it better and stronger," said Kamasa.
The report also addressed the severe problems facing the independent sector, touching on subjects such as the declining value of film to traditional broadcasters; how existing release arrangements have fallen out of step with audience behaviour and expectations, and the sometimes damaging effect of the theatrical window on smaller distribution companies.
"The actual value of British film is as great as ever," said Kamasa. "I don't think it is any less than it was five or 10 years ago. If anything, it is growing… for the right films. British film is as strong as ever with the consumers but in each aspect of the value chain, there are challenges. Everyone we talked to accept and acknowledge they all want British film to thrive. That was the very first positive thing. If they'd come back and said we don't care about British film, it wouldn't have been a very long conversation."
Kamasa claimed "even exhibitors who want to have Marvel and Star Wars films" want to see more UK independent films succeed, as do pay-TV channels, free-to-air TV channels and streaming channels. "Culturally, consumers like to see stories about themselves , about their cities, about their characters. Whether it's period, contemporary, whether it's biopics through to genre movies or comedies set in London, it relates to Brits," said Kamasa. "Every time we do research [at Lionsgate], consumers want to see more British films."
The report was warmly received by Margot James, the Minister for Digital and the Creative Industries. "From Paddington to God's Own Country, the UK independent film sector is a creative powerhouse, producing films that are enjoyed by millions globally and that reflect the rich diversity of modern Britain," she said. "With our world-class facilities, talented workforce and highly competitive tax reliefs, we are committed to supporting the UK film sector to grow and flourish for years to come."