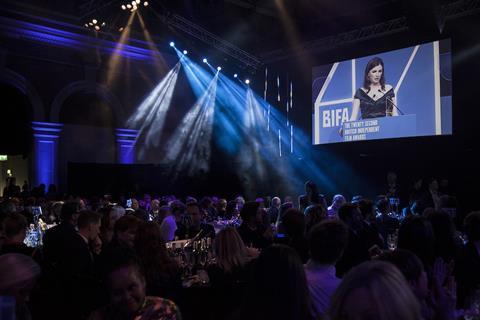 The British Independent Film Awards will return as an in-person event this year, taking place on Sunday, December 5 at its regular Old Billingsgate venue in London.
The eligibility dates have returned to the normal pattern, with feature films intended for theatrical release required to have screened to a paying public audience at either a qualifying festival or on general release between December 1, 2020 and November 30, 2021.
The flexible eligibility rules put in place for the 2020 ceremony have been retained for this year, with films that had a qualifying theatrical release or festival screening cancelled or moved online due to the pandemic still eligible to enter.
Longlists for the awards will be announced on October 18, with nominations revealed on November 3. Winners in the craft categories will be announced pre-ceremony, at a date to be confirmed.
The ceremony will implement Covid protocols, regardless of whether or not the government introduces vaccine passports ahead of December. The protocols will include asking guests to do a Covid test before they attend the event.
"We're aware that we'll be bringing together lots of off- and on-screen talent and we want to make sure that they can be confident they can come to Bifa as safely as possible and without risking the Covid security of the productions that they are working on," said Amy Gustin and Deena Wallace, Bifa directors.
With in-person events across the industry subject to last-minute changes, Gustin and Wallace also said that Bifa has developed a "Plan B" should the physical ceremony not be possible. If needed, that would also take place at the beginning of December, with the directors keen to maintain Bifa's place in at the start of awards season.
Entries for the awards have remained steady, with 100 UK features submitted this year compared to 99 last year, and international features down slightly to 55 from 62.
One award category has been renamed, with Most Promising Newcomer now known as Breakthrough Performance. Previous winners of this rising-talent award include Dev Patel for Slumdog Millionaire, Jessie Buckley for Beast and 2020 winner Kosar Ali for Rocks.
Supporting new filmmakers
Bifa has also widened the remit of Springboard, the annual programme it hosts for UK training body ScreenSkills, designed to support writers, directors and producers in capitalising on early success in their careers. It is now operating as an open call, to expand the opportunity to more filmmakers from underrepresented backgrounds, including those based outside of London.
Launched last year in partnership with Netflix, the programme was previously only open to filmmakers longlisted in the Bifa categories of debut director, debut screenwriter, breakthrough producer and the Discovery award.
"We know there are many barriers that filmmakers have to overcome to get a film made and seen, even more so for filmmakers from under-represented backgrounds," said Gustin and Wallace. "The spotlight that the ceremony gives to emerging talent is enormously valuable, but programmes like Springboard allow us to keep supporting new filmmakers beyond that, building a community amongst them, offering targeted training and skills support and helping them to make the most of the success of their first films."
The 2021/22 Springboard run also includes two new initiatives running alongside the professional development programme. Agent Connect looks to connect unrepresented talent with agents, with participating agencies including Independent Talent Group, Casarotto Ramsay & Associates and The Artists Partnership. Funding Connect is an online networking initiative connecting writers, directors and producers with other producers, sales agents and financiers. Applications are open until Monday, October 11.
Bifa is also introducing an annual mentoring programme for up to 40 emerging writers, directors and producers looking to learn more about the industry, develop their careers and make connections in the film community. It is open to filmmakers with at least one feature credit in any role, and either writer, director or producer experience on two short films. Participants will be paired with mentors between October 2021 and March 2022.
It has also expanded the equality, diversion and inclusion training it has been offering since 2018, to now include anti-bullying and harassment, and fair recruitment.