The genre event will host a five-strong line-up of Malaysian projects; Ivanhoe, Huayi, Blumhouse, CJ among BIFAN attendees.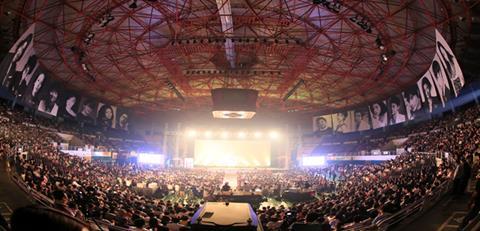 Asia's largest genre film fest, the Bucheon International Fantastic Film Festival (BIFAN) has announced a five-title line-up for a Project Spotlight on Malaysia in this year's Network of Asian Fantastic Film (NAFF).
Celebrating its 20th edition, BIFAN last month in Cannes launched the BIFAN Industry Gathering (BIG), a newly expanded industry programme which takes NAFF under its umbrella.
BIFAN will run July 21-31 with BIG taking place between July 22-28 and NAFFrunning July 25-28.
Companies set to attend this year include Ivanhoe Pictures, Huayi Brothers, Blumhouse Productions, Edko Films, Fortissimo, ICM Partners, CJ, Showbox, Lotte and NEW.
Spotlight on Malaysia
Since its launch in 2008, NAFF has been highlighting selected countries such as China, the Philippines and Thailand in its genre film project market.
"Malaysia has recently become a hotbed for local genre films. NAFF endeavors to be the window between East and West, so it makes sense that we would like to give the opportunity for Malaysian filmmakers to meet with global financiers and show their international potential," said Thomas Nam, managing director of NAFF.
"The country has vast amounts of natural resources as well as uber-modern cities and Asia's largest studio. This is the reason why Malaysia is popular with Singapore and Hong Kong for co-productions, and it can be with other countries," he added.
This year, in cooperation with National Film Development Corporation Malaysia (FINAS), NAFF has selected five Malaysian projects:
- VOX by Yok Lung Lai, a mystery thriller focusing on technology
- XX Ray III, a new project from director/screenwriter Aziz M. Osman (XX Ray)
- Sitora The Weretiger by up-and-coming young filmmaker Diffan Sina Norman
- Dawn Raid: The Hands That Rattled The Queen, a debut film by Bront Palarae
- Run Adam Run by Yaya Abu Bakar, dealing with child abduction
In addition to one-on-one meetings, NAFF will hold a networking event on July 27 when the project filmmakers will get to pitch to Korean and international investors, distributors and other potential partners.
The projects will also be competing for production grants and post-production support alongside the It Project and Nordic Genre Invasion selections. The winners will be announced July 28 at the BIG Closing Ceremony and NAFF Awards Ceremony.
It Project titles
NAFF says it had a record number of submissions this year, with 238 films from 27 countries. The previously announced 16 It Project selections from 11 countries include Human's Parts Company from 19-year-old Matsumoto Hana, whose dadadada seventeen won the Yubari fantastic film festival's Special Jury Prize and zombie feature Black Rock by Steven Baker, whose Love Story won the Jury Prize for Short Film at BIFAN 2015.
Previous It Project titles that went on to be completed include 2013 Korean box office hit The Terror Live, Joko Anwar's 2012 SXSW title Modus Anomali, and Yeon Sang-ho's 2012 Cannes title The King Of Pigs.
A 2013 It Project title, Dain Said's Malaysian mystery Interchange was picked up by Reel Suspects for international rights last month in Cannes.