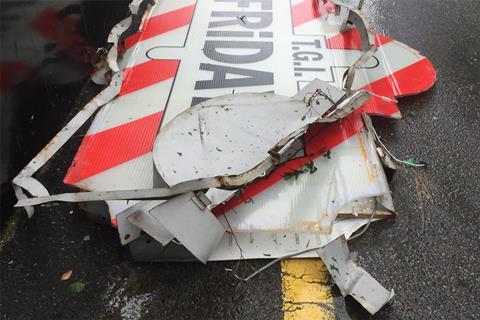 Busan International Film Festival (BIFF) and the accompanying Asian Film Market have rescheduled or moved several events after Busan was battered by Typhoon Kong-rey on Saturday morning (Oct 6).
The opening reception for the Asian Film Market (Oct 6, 20:00) has been changed from the garden of Novotel Ambassador Busan to the hotel's grand ballroom.
Meanwhile, festival organisers announced that Outdoor stage events have been moved to the first floor lobby of Cinemountain at Busan Cinema Centre. All events before 15:30 were cancelled but the programme will resume at 16:00 today.
The Open Talk event with Lee Chang-dong, which was cancelled earlier today, has been rescheduled for 19:00-19:40 in the first floor lobby of Cinemountain at Busan Cinema Centre.
BIFF shuttle buses resumed running today at 14:00. However, there will be no shuttles before noon on Sunday, October 7, due to the Busan Marathon.
Typhoon winds and flying debris had many BIFF and Asian Film Market delegates huddling inside their hotels on Saturday morning, the first day of the market, while Busan city government sent emergency messages to mobile phones advising people to stay indoors.
There was some anger among delegates that the opening of the Asian Film Market had not been postponed and that organisers waited too long to send out warnings and information about changes to transportation and screenings.
"Why is the market still on? No warning email, no announcement, this is completely unacceptable," one delegate wrote on social media. "I'm currently on a market shuttle with other buyers and sales agents holding on for dear life."
Many guests are arriving late to the festival and market as hundreds of flights to South Korea were cancelled on Saturday morning.
By mid-afternoon, the strong winds and heavy rain had calmed in Busan as the typhoon moved towards northern Kyushu in Japan. It is then expected to move towards the Sea of Japan and be downgraded to an extratropical cyclone in the early hours of October 7.