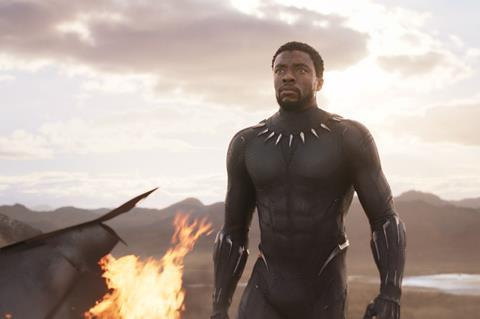 In a shock that has rocked Hollywood on Friday evening (August 28) Chadwick Boseman, the lead in Black Panther and 42, has died of cancer. He was 43.
Boseman died at his home in Los Angeles with his wife and family by his side. He had been diagnosed with colon cancer four years ago but never made his condition public.
Boseman rose to prominence for his portrayal of baseball icon Jackie Robinson in 42, and went on to play James Brown in Get On Up and pioneering Supreme Court Justice Marshall Thurgood in Marshall.
But it was as T'Challa, leader of the fictitious Afrofuturist nation of Wakanda in Marvel Studio's global smash Black Panther, that Boseman reached new heights of fame.
His credits include two films from Netflix that are likely to figure in the upcoming awards season: Spike Lee's Da 5 Bloods and the upcoming August Wilson adaptation, Ma Rainey's Black Bottom.
He also starred in Message From The King, and 21 Bridges. Boseman was due to star in Black Panther II and the Marvel Studios TV series What If…? for Disney+.

"It is with immeasurable grief that we confirm the passing of Chadwick Bosman," his family said in a statement.
"Chadwick was diagnosed with stage III colon cancer in 2016, and battled with it these last 4 years as it progressed to stage IV.
"A true fighter, Chadwick persevered through it all, and brought you many of the films you have come to love so much.
"From Marshall to Da 5 Bloods, August Wilson's Ma Rainey's Black Bottom and several more – all were filmed during and between countless surgeries and chemotherapy.
"It was the honour of his career to bring King T'Challa to life in Black Panther."
Tributes
Ryan Coogler, Black Panther director
"I haven't grieved a loss this acute before. I spent the last year preparing, imagining and writing words for him to say, that we weren't destined to see. It leaves me broken knowing that I won't be able to watch another close-up of him in the monitor again or walk up to him and ask for another take…
"…In African cultures we often refer to loved ones that have passed on as ancestors. Sometimes you are genetically related. Sometimes you are not. I had the privilege of directing scenes of Chad's character, T'Challa, communicating with the ancestors of Wakanda. We were in Atlanta, in an abandoned warehouse, with bluescreens, and massive movie lights, but Chad's performance made it feel real. I think it was because from the time that I met him, the ancestors spoke through him."
Viola Davis
"Chadwick…..no words to express my devastation of losing you. Your talent, your spirit, your heart, your authenticity……..It was an honor working beside you, getting to know you….Rest well prince…May flights of angels sing thee to thy heavenly rest. I love you!"
Samuel L. Jackson
"THANK YOU Chadwick Boseman for all you gave us. We needed it & will always cherish it! A talented & giving artist & brother who will be sorely missed RIP."
Kevin Feige, president, Marvel Studios and chief creative officer, Marvel
"Chadwick's passing is absolutely devastating. He was our T'Challa, our Black Panther, and our dear friend. Each time he stepped on set, he radiated charisma and joy, and each time he appeared on screen, he created something truly indelible. He embodied a lot of amazing people in his work, and nobody was better at bringing great men to life. He was as smart and kind and powerful and strong as any person he portrayed. Now he takes his place alongside them as an icon for the ages. The Marvel Studios family deeply mourns his loss, and we are grieving tonight with his family."
Bob Iger, Disney executive chairman
"We are all heartbroken by the tragic loss of Chadwick Boseman – an extraordinary talent, and one of the most gentle and giving souls I have ever met. He brought enormous strength, dignity and depth to his groundbreaking role of Black Panther; shattering myths and stereotypes, becoming a long-awaited hero to millions around the world, and inspiring us all to dream bigger and demand more than the status quo. We mourn all that he was, as well as everything he was destined to become."
Chris Evans
"I'm absolutely devastated. This is beyond heartbreaking. Chadwick was special. A true original. He was a deeply committed and constantly curious artist. He had so much amazing work still left to create. I'm endlessly grateful for our friendship. Rest in power, King💙"
Mark Ruffalo
"All I have to say is the tragedies amassing this year have only been made more profound by the loss of Chadwick Boseman."
Oprah Winfrey
"What a gentle gifted soul. Showing us all that greatness between surgeries and chemotherapy. This is what dignity looks like."
Jordan Peele
"This is a crushing blow."
The Academy
"An immeasurable loss. From Black Panther to Da 5 Bloods, Chadwick Boseman brought strength and light to the screen, every time."