Worldwide Box Office July 23-25 2021
| Rank | Film (Distributor) | 3-day (World) | Cume (World) | 3-day (Int'l) | Cume (Int'l) | Territories |
| --- | --- | --- | --- | --- | --- | --- |
| 1 | Green Snake | $29.7m | $29.7m | $29.7m | $29.7m | 1 |
| 2 | Black Widow | $26.1m | $314.9m | $14.5m | $160.1m | 49 |
| 3 | Old | $23m | $23m | $6.5m | $6.5m | 24 |
| 4 | Space Jam: A New Legacy | $22.1m | $93.9m | $12.6m | $42.6m | 67 |
| 5 | Chinese Doctors | $17.3m | $175.6m | $17.3m | $175.6m | 1 |
Credit: Comscore, all figures estimates
Top studio title 'Black Widow' cracks $300m worldwide
With an estimated $14.5m in international markets and $11.6m for North America, Disney's Black Widow remained the top US studio film at the global box office, resisting the challenge of new releases such as Universal's Old and Paramount's Snake Eyes.
However, the Marvel spy action film was beaten in the official worldwide chart by Green Snake, a Chinese film currently playing in China only. The animated adventure, a sequel to 2019's White Snake, grossed $29.7m at the weekend, and $29.8m including previews – which compares with a $26.1m global weekend total for Black Widow. (See China Box Office story.)
After three weekends of play, Black Widow has now pushed through the $300m barrier, with a $315m total: $160m for international and $155m in North America. Box office continues to slide, but less dramatically than was the case in the second session. Takings fell by 55% in North America (which compares with 67% for the second weekend) and by 52% internationally (this was 55% for the second weekend).
Black Widow faced challenges in Australia, with the Southern region the latest to impose a state-wide lockdown, joining New South Wales and Victoria. Disney estimates only 30% of the Australia market is now open. South Korea and Japan are both experiencing restrictions, while France is now requiring vaccination passports to visit the cinema. South East Asia (except Singapore) remains closed.
Black Widow's strongest holds were in UK and Ireland (-24%, and retaining the top spot), Sweden (-30%), Japan (-33%), Germany (-36%) and Netherlands (-39%).
In cumulative totals, South Korea tops the international league table for the film with $23.1m, followed by UK and Ireland ($19.0m) and France ($12.9m). Mexico ($8.9m) has now overtaken Australia ($8.6m) for fourth place. Next come Russia ($8.5m), Japan ($7.3m), Hong Kong ($6.0m), Germany ($4.6m), Brazil ($5.6m) and Spain ($5.6m). Key market China has yet to open.
Next weekend sees Black Widow open in Indonesia and Peru.
For comparison, Disney's Captain Marvel had reached $910m worldwide after three weekends of play in March 2019, on its way to a global total of $1.13bn. Black Widow is available simultaneously in cinemas and on Disney+ Premier Access.
'Old' boosted by North America chart-topping debut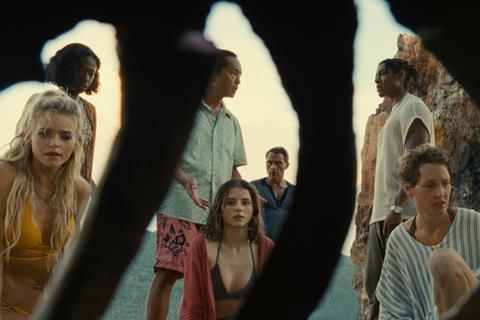 UPDATED: In international markets, M Night Shyamalan's Old ranks seventh place, with a confirmed $6.7m debut from select territories. Thanks to a chart-topping $16.9m start in North America, the numbers combine to deliver a $23.6m opening weekend, and third place in the global chart behind Green Snake and Black Widow.
Old opened in 23 international territories for Universal, doing best in Russia, with a chart-topping $2.1m, stronger than openings for past horror titles such as A Quiet Place and Us. Old opened in third place in the UK and Ireland, with $1.2m, and also third in Mexico, with $848,000. All figures are estimates.
Next for Old in the weekend rankings come Italy ($726,000), France ($586,000) and Australia ($329,000). Due to the new vaccination passport policy, French box office fell 60% overall from the previous weekend.
'Fast & Furious 9' hits 50% of 'F8' tally
UPDATED: Universal's Fast & Furious 9 grossed a confirmed $12.3m in international markets following a 54% decline, and $4.8m in North America after a 37% drop, combining for a $17.1m global session. The global total so far is $622.1m – exactly half way to matching Fast & Furious 8's global total of $1.24bn, which comprised $226m in North America and $1.01bn in international markets.
Territory highlights for F9 at the weekend included Germany, with a $3.5m second session, remaining a clear number one in the market, and taking the total to $12.2m. France dropped 82% in the second weekend to $1.5m, but the total is a decent $12.6m. The UK and Ireland, which experienced poor weekend weather overall, saw just a 2% drop to $601,000 in the fifth session and the total is $20.6m.
While Fast & Furious 9 will fall short of Fast 8's $1.24m global total, its distance behind spinoff Hobbs & Shaw (which grossed $759m worldwide in 2019) looks less intimidating. F9 has already surpassed the lifetime total of Hobbs &Shaw in 11 markets including Brazil, Mexico, Australia and Russia/CIS.
Also for Universal, The Boss Baby: Family Business added $6.9m after a 14% gain in international markets and $9.8m worldwide, taking the totals respectively to $10.9m and $61.2m. Key openings included South Korea (with $2.9m) and Mexico ($1.2m). The Boss Baby sequel opened top in Hong Kong with $1m. There are many more key markets yet to open, and next are Spain (August 6), Brazil (August 12) and France (August 18).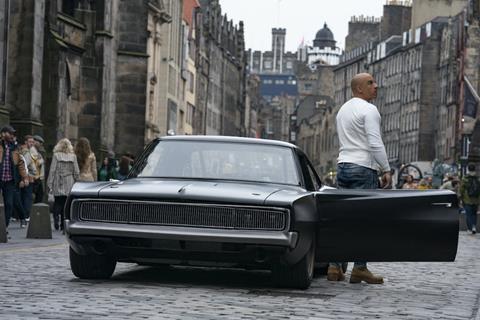 Universal's release of DreamWorks Animation's The Croods: A New Age added $4.4m in international markets, taking the international total to $139.4m, and the global tally to $198m. UK and Ireland was a highlight with a 26% rise from opening weekend resulting in a $1.1m take and $2.7m running total. The original The Croods grossed $587m worldwide in 2013.
'Snake Eyes' debuts in international markets
As is the case with Old (see above), Paramount's Snake Eyes made a modest start in international markets, with numbers overshadowed by North America. The film, which is also known as Snake Eyes: GI Joe Origins, is based on a character in the GI Joe universe that featured in both GI Joe: The Rise Of Cobra (2009) and sequel GI Joe: Retaliation (2013). Snake Eyes sees Henry Golding play the role in a reboot of the film series.
Snake Eyes began with an estimated $17.4m in North America and $4.0m in 37 international markets. Top territories for the latter were Russia/CIS ($685,000), United Arab Emirates (a chart-topping $512,000) and Mexico ($330,000). Paramount estimates Snake Eyes has opened in 29% of the international footprint.
GI Joe: The Rise Of Cobra grossed $302m worldwide: $150m in North America and $152m for international. GI Joe: Retaliation dipped in North America ($123m), but surged in international markets ($253m), making for a bigger global total ($376m).
'Space Jam: A New Legacy' pushes towards $100m worldwide
UPDATED: Warner Bros' Space Jam: A New Legacy enjoyed a solid second session in international markets, adding an estimated $12.4m, and bringing the total to $42.6m. In North America, the film suffered a steep decline, down 69% with takings of $9.6m, and a $51.4m total. Global total after two weekends of play is $94m.
UK and Ireland was the top international market, delivering an estimated $1.9m, and a 3% rise on the opening weekend. Mexico and Spain come next with $1.4m and $1.3m, respectively, then France with $1.1m. Both Spain and France were new openings.
In cumulative totals, top international markets are Australia ($7.3m), Mexico ($5.7m), UK and Ireland ($5m), Russia/CIS ($2.6m) and New Zealand ($2.1m). The film stars Los Angeles Lakers' LeBron James and the Looney Tunes characters.
The original Space Jam, starring Michael Jordan, grossed $90m in North America, $140m for international and $230 m worldwide.