EXCLUSIVE: Director also revealed details of the film's shoot, which recently wrapped in Hungary.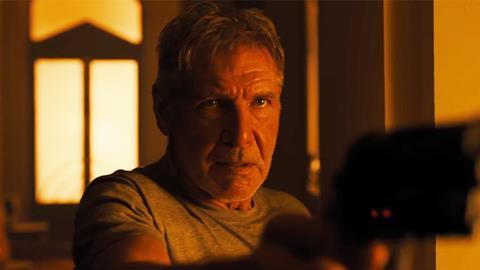 Denis Villeneuve, the director of Blade Runner 2049, has revealed that the film-makers are aiming for an R-rating for the forthcoming Blade Runner sequel.
Speaking to Screen, Villeneuve also confirmed that the film wrapped shooting in late November and the editing process has now commenced in Los Angeles.
"My producers are finding it fun to remind me that it will be one of the most expensive R-rated independent feature films ever made," Villeneuve disclosed.
The decision to shoot for an R-rating is likely to have been influenced by the success of Ryan Reynolds' superhero caper Deadpool in early 2016, which carried an R certificate but made $783m worldwide at the box office, making it the highest-grossing R-rated film ever released.
Warner Bros has set a US release date of October 6, 2017 for Blade Runner 2049. Sony Pictures is handling most international territories.
Villeneuve's most recent release Arrival, the sci-fi starring Amy Adams, was rated PG-13 by the Motion Picture Association of America (MPAA), but his previous films Sicario, Enemy and Prisoners all carried R-ratings.
If Blade Runner 2049 is granted an R-rating by the MPAA, in the UK this would be likely to translate to a 15 certificate being granted by the British Board of Film Classification.
During the interview, the director also spoke about his determination to make the film with as minimal CGI as possible, applying the same principal to the shoot that he had used for his most recent feature Arrival. "I can count on my fingers the amount of times we put a green screen on set. Most of the movie was done on camera, me and [cinematographer] Roger Deakins worked very hard to do it that way.
"My actors were not walking on green screens all day long. CGI is a strong tool for backgrounds and extensions but what is around the actors needs to be as real as possible. When I watch a movie that's mostly CGI, I'm disengaged," he continued.
While the editing process on Blade Runner 2049 has only recently begun, Villeneuve is already dreaming of working on further sci-fi features, an ambition he has harboured since he was a child. "I'm doomed, I love sci-fi. I have two more ideas now that I would love to do. [And] Blade Runner could go on… we'll see how this one goes."
Read more:
Our critics pick their hidden gems of 2016
Rogue One review