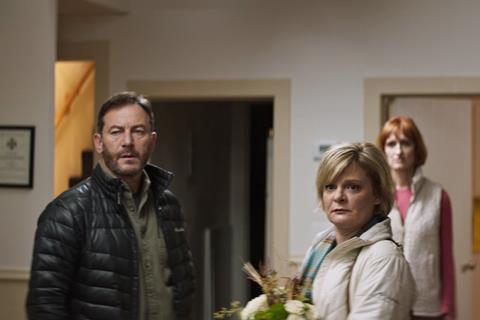 Bleecker Street has acquired US rights to Sundance hit Mass, one of the most critically acclaimed films of the festival and a hot awards prospect starring Reed Birney, Ann Dowd, Jason Isaacs, and Martha Plimpton.
Fran Kranz makes his writing-directing feature debut and produced alongside Casey Wilder Mott, JP Ouellette, and Dylan Matlock.
The 7 Eccles Street production centres on two sets of parents who, in an attempt to move on, meet after a tragic incident devastated their lives.
Bleecker Street has earmarked a fourth quarter awards season theatrical release later this year. Kranz's writing and the performances in particular have earned wide praised.
"Fran's film is such a powerful exploration of reconciliation and understanding," said Bleecker Street CEO Andrew Karpen. "The film showcases some incredible performances and hopefully will offer audiences a chance to empathise with those who have lost."
"This is a movie about life after loss and the need for reconciliation," said Kranz. "I never imagined when I wrote it that it could feel so relevant and urgent and I'm honoured to work with Bleecker Street in finding the largest audience possible for this story."
Kent Sanderson and Avy Eschenasy of Bleecker Street negotiated the deal with CAA and The Gersh Agency on behalf of the filmmakers.
As an actor, Kranz's credits include Dollhouse, The Cabin In The Woods, Much Ado About Nothing, and Death Of A Salesman on Broadway.
Bleecker Street recently released the Sundance comedy Together Together starring Ed Helms and Patti Harrison; Sundance and Venice Film Festival romance, The World To Come with Katherine Waterston and Vanessa Kirby; Supernova with Colin Firth and Stanley Tucci; Kitty Green's The Assistant with Julia Garner; and Wild Mountain Thyme with Emily Blunt and Jamie Dornan.
Upcoming releases include Dream Horse starring Toni Collette and Damian Lewis; documentary The Loneliest Whale; and Berlinale award-winner I'm Your Man starring Maren Eggert and Dan Stevens, which earned Eggert the best actress Silver Bear earlier this year.