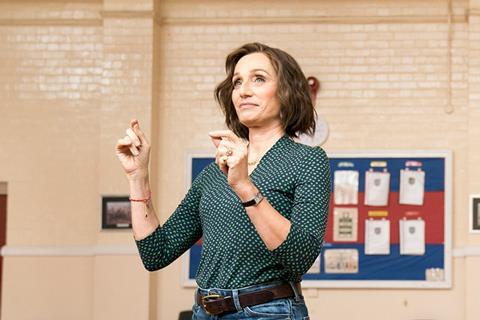 Bleecker Street will release Military Wives starring Kristin Scott Thomas and Sharon Horgan on May 22 on digital platforms.
Peter Cattaneo's (The Full Monty) film will be available to rent or buy through AppleTV, Amazon Prime Video and other major VOD platforms and on Hulu.
At the same time Bleecker Street will partner with choir groups, performing arts centers, community centers, military organisations, and theatrical exhibitors through an expanded "Community Cinema" programme.
Through the initiative, half of all revenue will go to these organisations, similar to what Bleecker Street did with theatre chains on Sally Potter's The Roads Not Taken. The film will also play at drive-ins theaters across the US.
"We want the joy and emotion of this film to be seen by as many people as possible, and Memorial Day weekend felt like the right moment to share this moving and inspiring movie," said Andrew Karpen, CEO of Bleecker Street. "In addition, while we all are experiencing hardship during this crisis, we wanted to collaborate with other organisations and share proceeds of this unique release with those businesses and partners that are being affected."
Military Wives centres on a group of women who form the first military wives choir while their partners are serving in Afghanistan. What starts as a way to help each other get through difficult times turns the women into an international phenomenon. May 22 was the postponed date of the film's theatrical release.
The film received its world premiere at Toronto last year. Groups and venues can sign-up to participate by signing up here.